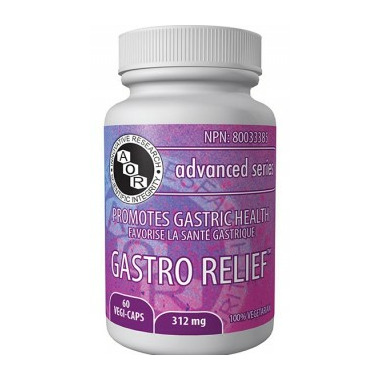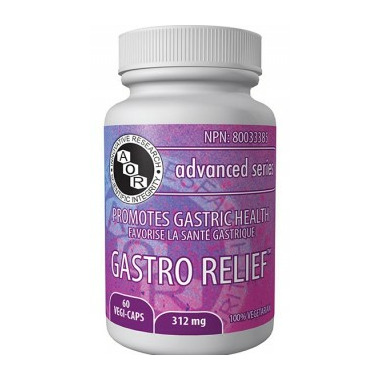 AOR Gastro Relief helps relieve digestive upset/disturbances including dyspepsia.
Benefits:
Relieves symptoms while addressing possible causes
Heals the gastric lining, protects the esophagus, kills H. pylori
Provides fast-acting relief of heartburn
Gluten Free
Dairy Free
Directions:
Adult Dosage: Take 2 capsules daily with food, or as directed by a qualified health care professional.
Cautions:
Consult a health care practitioner prior to use if you have hypochlorhydria/achlorhydia, stomach lesions, diabetes mellitus, Crohn's disease, or if you are taking hypoglycemic agents or hypolipidemic agents. Consult a health care practitioner if symptoms persist or worsen. Hypersensitivity (ie. allergy) has been known to occur, in which case discontinue use. Methemoglobinemia has been reported on rare occasions following an accidental overdose of potassium nitrate; intravenous methylene blue is the specific therapy for this condition. Do not use if you are taking erectile dysfunction-type products, or if you have an allergy to plants of the Anacardiaceae family such as pistachio, terebinth, Chinese pistache, and Schinus terebinthifolius (Brazilian pepper).
Pregnancy/Nursing:
Do not use




Minna:
more than a year ago
Nothing could cure my H-pylori ~ after taking 3 bouts of antibiotics which was brutal ! I was desperate..Tried a few bottles of AOR gastric relief and my symptoms seem to have gone ? Not sure if the H-Pylori has been eliminated but that's OK as long as the discomfort and pain is diminished to the occasional twinge so far...I'm 75 years old pretty fit and lead a relatively healthy lifestyle. Thanks for this product !
Page
1