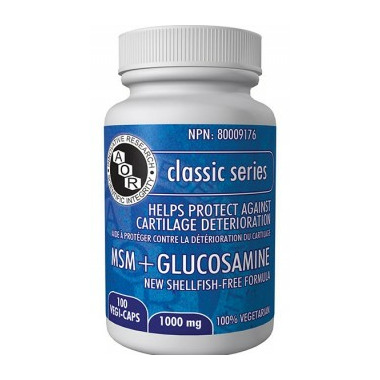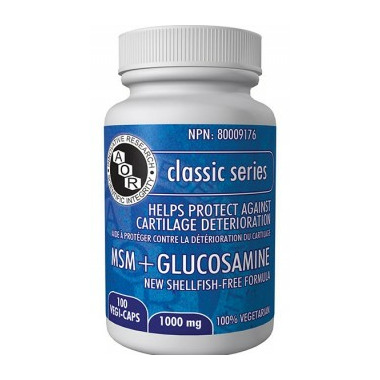 AOR MSM + Glucosamine helps to relieve joint pain associated with osteoarthritis and Glucosamine Sulfate is a factor in maintaining healthy cartilage and joint health.
Features:
Maintains healthy joint structure and flexibility
Helps repair damaged joints
Gluten Free
Adult Dosage:
Take 1 capsule one to three times daily with food, or as directed by a qualified health care practitioner.
Supplement Facts:
Serving Size: 1 Capsule
Methylsulfonylmethane 500 mg
Glucosamine Sulfate KCl (vegetarian) 500 mg

Non-medicinal ingredients:
ascorbyl palmitate. Capsule: hypromellose.
Cautions:
Consult a health practioner if symptoms worsen, or if allergic reaction occurs. Some people may experience mild gastrointestinal bloating, constipation or indigestion.
Pregnancy/Nursing:
Do not use
AOR Guarantees:
that no ingredients not listed on the label have been added to the product. Contains no wheat, gluten, corn, nuts, peanuts, sesame seeds, sulphites, mustard, dairy, soy, eggs, fish, shellfish or any animal byproduct.