ATTITUDE Little Ones Sparking Fun Hand Soap Refill
Hypoallergenic
1.04 L (35.2 oz)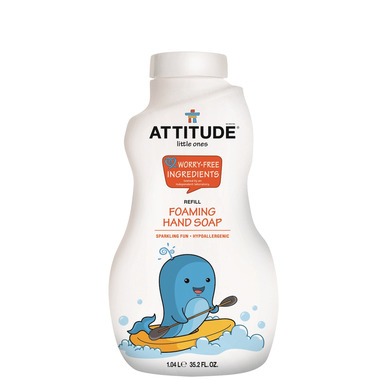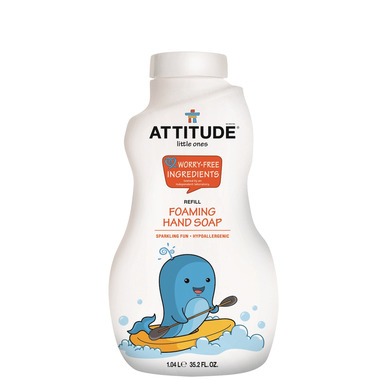 ATTITUDE Little Ones Sparking Fun Hand Soap Refill
Hypoallergenic
1.04 L (35.2 oz)
It's natural for parents to care and protect their baby. ATTITUDE is thrilled to assist them in their most important mission. You can easily take care of your loved ones with ATTITUDE baby Foaming Hand Soap Refill, free of any chemicals linked to cancer (not even traces!).
ATTITUDE promises to use only the safest and purest ingredients
Features:
Free of carcinogen ingredients and by products (IARC group 1 & 2)
Free of 1,4-dioxane and ethylene oxide, tested by independent laboratory
Certified eco-friendly by EcoLogo, the most recognized certification in North America
CO2 NEUTRAL: no contribution to climate change
Vegetable-based and biodegradable (OECD 301)
Fragrance derived from natural ingredients, hypoallergenic, respect IFRA (International Fragrance Association) standards
Fragrance without CMR (Carcinogens, Mutagens or toxic for Reproduction) compounds
Not tested on animal
Vegan product
Septic tank safe
Made in Canada
Ingredients: aqua, sodium coco-sulfate, coco-glucoside, decyl glucoside, glycerin, glyceryl oleate, citric acid, sodium gluconate, sodium citrate, parfum/fragrance*, sodium benzoate, potassium sorbate.
*derived from natural ingredients.
Note: Foaming pump required