Aura Cacia Lemon Eucalyptus Essential Oil
100% Pure Essential Oil
59 mL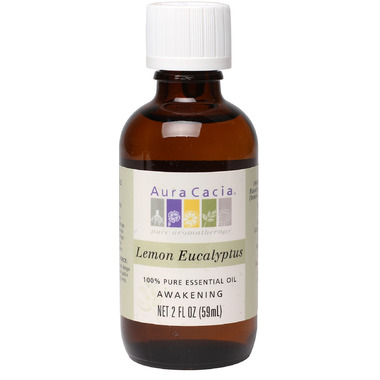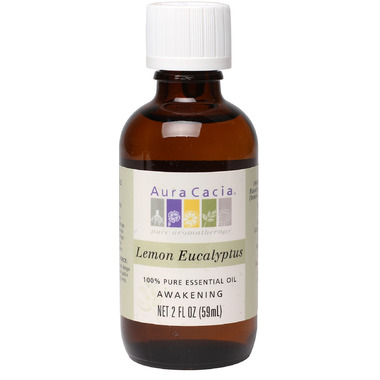 Aura Cacia Lemon Eucalyptus Essential Oil
100% Pure Essential Oil
59 mL
This oil, which has a rosy-citronella aroma with subtle lemon undertones, is an ideal natural ingredient in a variety of summer formulations that help you enjoy the outdoors naturally. It's effective in patio sprays, candles, lamp oils, lotions and body mists.
Botanical Name: Eucalyptus citriodora

Ingredients: Eucalyptus citriodora (lemon eucalyptus) oil
Product Notes:

Color: Clear, colorless to pale yellow
Viscosity: Mobile
Top Note: Fresh, strong rosy-citronella like
Middle Note: Diffusive, citronella like
Dry Note: Sweet, balsamic, floral
Aromatherapy Actions: Refreshing, invigorating, cooling
Safety Data: Non-toxic, non-irritant, possible-sensitizing in some individuals.
Ashley:
about a year ago
I bought this to make a mosquito spray. I was going on a trip to Dominican Republic and wanted an alternative to DEET. Used the recipe here: http://lifehacker.com/make-an-effective-diy-mosquito-repelle-
nt-with-lemon-euc-1780663355
I must say it worked pretty wonderfully. Compared to other tourists, I only ended up with two or three mosquito bites in the two weeks and some people had a dozen in just a few days.
The reason I got any bites at all is that I forgot to reapply as often as I should have. You have to reapply this diluted version every couple of hours for max effect.
However, I would not use this for anything other than an insect repellent and definitely not in the undiluted version. The scent is strong and permeating and it is difficult to keep it contained in full strength. The diluted version though, it is pretty nice.
Page
1