Aura Cacia
Aura Cacia Lemon Eucalyptus Essential Oil
100% Pure Essential Oil 59 mL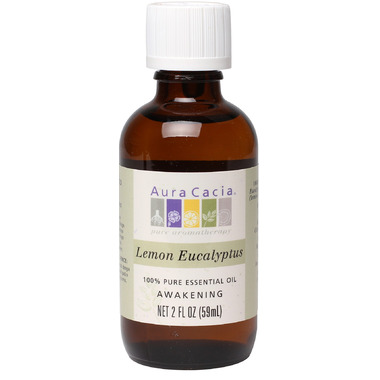 Aura Cacia
Aura Cacia Lemon Eucalyptus Essential Oil
100% Pure Essential Oil
59 mL
---
Description
This oil, which has a rosy-citronella aroma with subtle lemon undertones, is an ideal natural ingredient in a variety of summer formulations that help you enjoy the outdoors naturally. It's effective in patio sprays, candles, lamp oils, lotions and body mists.
Botanical Name: Eucalyptus citriodora

Ingredients: Eucalyptus citriodora (lemon eucalyptus) oil
Product Notes:

Color: Clear, colorless to pale yellow
Viscosity: Mobile
Top Note: Fresh, strong rosy-citronella like
Middle Note: Diffusive, citronella like
Dry Note: Sweet, balsamic, floral
Aromatherapy Actions: Refreshing, invigorating, cooling
Safety Data: Non-toxic, non-irritant, possible-sensitizing in some individuals.
Highlights