Aura Inner Beauty Radiance Ingestible Beauty Powder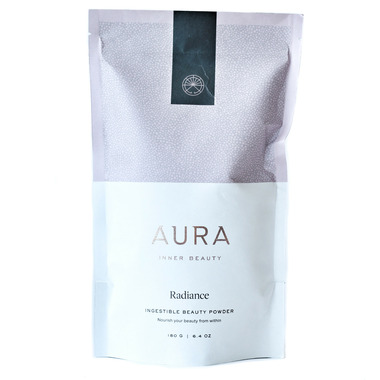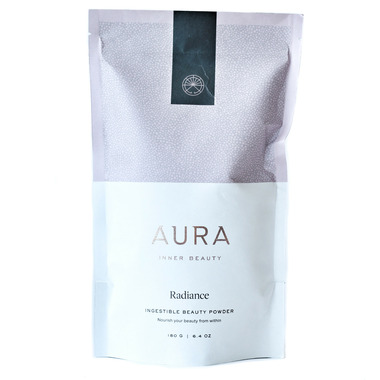 Aura Inner Beauty Radiance Ingestible Beauty Powder
Please be advised that Well.ca follows manufacturer guidelines for storing & shipping probiotics.
Aura Radiance is a powerhouse beauty blend that contains a balance of live and spore-forming probiotics, natural prebiotics and antioxidant packed superfoods to promote healthy gut flora, fight cellular damage and give you healthy, radiant skin.
Gut-to-Skin Connection
Our skin is our biggest organ and the toxins in our daily lives like caffeine, processed sugars, food additives, and air pollutants, can cause cracks in our gut lining, known as a leaky gut. We tend to attribute skin issues to the stresses of everyday life (or maybe a little too much wine), but sometimes the external signs are a direct result of internal unrest.
A leaky gut wreaks havoc on our gut flora and leads to inflammation and damaged cells in our body. When we support and nourish our gut with an effective digestive blend we will see the results radiate outside our body - vibrant youthful skin, a clear complexion and increased energy.
Directions: 6g daily (one slightly heaped teaspoon) with your favourite cold beverage. Recommended water, coconut water, or almond milk.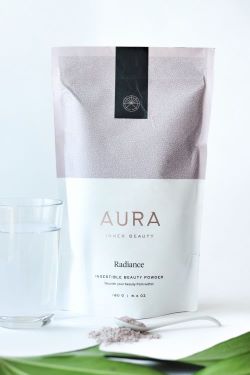 Key Ingredients Benefits
Probiotic/Prebiotic Blend: supports digestive health, reduces bloating and gas retention, and improves inflamed skin conditions like ezcema and acne.
Mangosteen: A rare antioxidant, Xanthones, known for it's healing powers does wonders for the skin by fighting inflammation and promoting the regeneration of new cells
Rosehip: A nutrient powerhouse, the fruit of the rose plants contains impressive amounts of Vitamin C which boosts the production of collagen and improves immunity
Black Currant: These small dark berries are one of the richest in anthocyanins which boast antimicrobial properties that protect against cognitive decline, cancer, diabeters, and heart disease
Sprouted Watermelon Seeds: These black seeds contain high amounts of linoleic acid and are full of anti-aging amino acids that help retain moisture in the skin and reduce acne
Dulse: Mineral rich sea vegetable found on the East Coast of Canada is an excellent source of iodine, iron, potassium and Vitamin B6 and helps to support thyroid function and energy metabolism
Ingredients: inulin (chicory root), lemon juice powder*, mangosteen (peel extract)*, rosehip extract*, agave inulin powder*, green tea extract, sprouted mung beans*, amla extract*, pomegranate extract*, sprouted watermelon seeds, black currants, beet root, dulse powder, cocoa extract, burdock root*, ginger*, cinnamon*, tomato extract, natural pomegranate flavour, Probiotic Blend (LactoSpore®, Saccharomyces boulardii, Lactobacillus rhamnosus) stevia leaf extract.
*Certified Organic

Warnings: Do not exceed recommended intake. If under medical supervision, pregnant, or breastfeeding consult a doctor before use. This product is not intended to diagnose, treat, cure, or prevent any disease.