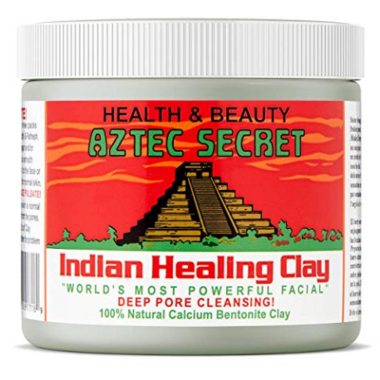 Description
Deep pore cleansing mask that harnesses the secret + ancient power of clay. The unique structure of the volcanic ash molecules in this green healing clay help to lift dirt and oil to cleanse pores. Perform a purifying facial right at home with clay sourced from Death Valley, California where it is sun-dried for up to 6 months in temperatures up to 134°. Includes no additives or fragrance.
NO ADDITIVES, NO FRAGRANCES, NO ANIMAL TEST NO ANIMAL PRODUCTS.

Directions of Use:

Mix healing clay with equal parts of apple cider vinegar* or water.
Use a non-metal bowl such as a glass, pottery, or wooden bowl.
Stir the mixture until it is a smooth paste .
Add more clay or liquid as needed.
Apply 1/8 to 1/4 inch thick layer of clay to the face or other areas.
Let it dry for 5-10 minute for delicate skin and 15-20 minute for normal skin. Remove clay by washing with warm water.
A slight redness may appear after removing the clay.
This is normal and will disappear in approximately 30minutes.
For External Use Only. Discontinue Use if Irritation Occurs
Ingredients
: 100% Natural Calcium Bentonite (Green) Clay
Highlights

Ingredients
100% Natural Calcium Bentonite (Green) Clay