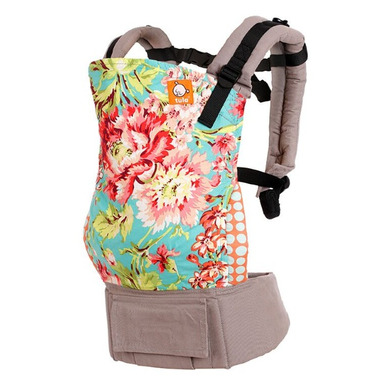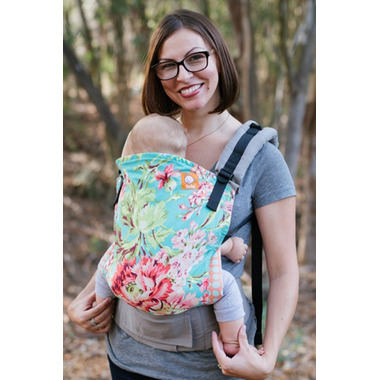 Description
An award-winning industry leader, Tula is proud to offer beautiful, easy-to use, versatile, and long-lasting carriers which provide a comfortable, ergonomic method of supporting the bond between caregiver and child from birth through toddlerhood and beyond.
Perfectly balanced between a feminine beauty and a lively style, Bliss Bouquet is an instant classic. Bliss Bouquet displays richly detailed flowers against a sky colored backdrop and accented with fun polka dot padding and light gray canvas. Bliss Bouquet adds subtle beauty to your daily cuddle adventures.
Features:
Removable hood in light grey

Highest quality Duraflex buckles
Large front pocket on contouring hip belt
Dual-adjustment straps provide the perfect fit
Machine washable
Extra padding around leg-opening for baby's comfort
Supportive shoulder padding for your optimal comfort
Wide, padded waist band for additional support
Hand-made from 100% Öko-Tex Standard 100 certified canvas
Variety of unique print selections for every style
Provides an ergonomic M-position seat supporting optimal development for baby's body

15lbs - 45lbs (7-20kg) / Can be used from 7-15lbs (3.5-7kg) in combination with a Tula Infant Insert. Not included and sold separately.
Product Measurements:
15.5" tall, 15" wide at the seat, and 17" wide at the top.
Baby Size Padded Shoulder Straps measure 20" when not expanded and 23" when expanded. The webbing attached to the strap is an additional 29" long.

Waist Belt: 5.5" tall and 27" wide
Additional webbing allows waist belt to extend to a total of 57" long
Weight of Carrier: 2 lbs