Baby Works
Baby Works Bamboo Reusable Nursing Pads Bundle
With Laundry & Wet Bag 8 Count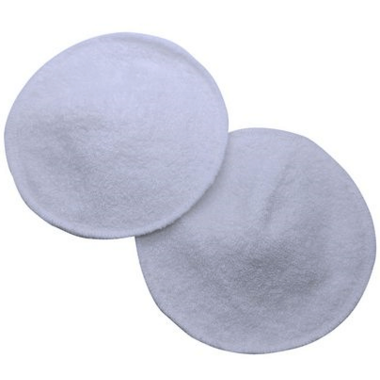 Baby Works
Baby Works Bamboo Reusable Nursing Pads Bundle
With Laundry & Wet Bag
8 Count
Baby Works Bamboo Reusable Nursing Pads Bundle
is rated out of
5
by
8
.
---
Description
The Baby Works™ Reusable Nursing Pads are contoured for maximum comfort and a more discreet fit. Super soft on sensitive skin, the rayon from bamboo is ultra absorbent while the leak-proof liner provides maximum protection.
Features:

Bonus laundry bag & carry bag included!
Contoured shape for maxmimum comfort and protection
Super soft on skin & extra absorbent
Made from rayon from bamboo
Back of nursing pads have a specially designed grippy material to stay in place inside a bra
Convenient wet bag for storing used pads while on the go and laundry bag for keeping pads from getting lost in the laundry
Highlights

Rated

3

out of

5
by
Hana
from
Quality has decreased
I have previously loved these nursing pads. After my first baby (2019), I bought 2 sets of these and they quickly became my favourites; I even bought some as a gift. After my second baby (feb 2022) I decided to get another set and exclusively use Baby Works Bamboo nursing pads. What a huge disappointment. The backing material has changed; though it still is waterproof, I have so far, had one nearly fuse to itself in the dryer on only the second wash. I managed to pull it apart but even worse are there are at least 4 where the stitching on the fuzzy side is coming out in the dart. I have been able to repair them but I shouldn't have to after 2 washes (keeping in mind my I have 2 older sets, washed the same way over 20 months of breastfeeding without issue). One positive change is that the garment wash bag that is included, is larger and more useful than the previous version. I still like them, and will continue to repair them, but the older version was better. I've included pictures with the open seams and backing that was fused circled.
Date published: 2022-04-27
Rated

5

out of

5
by
Julia
from
Soft and absorbent... I love how comfortable these are ... I dont even know I am wearing them. Super absorbent and they don't feel wet against your skin when you have leaked. Easy to wash... I just send them through with the babys stuff. I don't use the bag for washing them as I find they dont completely dry otherwise ... just my preference
Date published: 2019-02-26
Rated

1

out of

5
by
AshP
from
Wanted to like these, but falling apart after first use
I really wanted to like these because of the waterproof side so I could stop soaking my shirts with milk. But, the absorbent "terry" side is already unravelling after first use. They arrived a little unravelled, but it's gotten worse after the first wash (despite using the included laundry bag) and wear.
Date published: 2021-04-28
Rated

2

out of

5
by
Alysha
from
Poor quality
These are not very absorbent and the threads came apart in the wash (although I did not use the provided laundry bag - too much fuss with a newborn!). Also more expensive than similar ones on Amazon which work much better. That said, they are nice and soft (bamboo).
Date published: 2021-06-29
Rated

4

out of

5
by
Park909
from
Good product
Overall I liked these. Nice to have ones you can wash and reuse. The only thing that I missed from the disposable ones, is these don't have any adhesive on the back. So they sometimes moved a bit. But very good otherwise!
Date published: 2020-08-09
Rated

1

out of

5
by
Lynn
from
V wet
These are small and not absorbent. They just hold the milk right to the nipple causing irritation. Save your money these really are almost worse than nothing.
Date published: 2021-02-16
Rated

5

out of

5
by
jjcc
from
Pleased with purchase
Great product. Soft on the nipples and waterproof. I feel better about these than using the disposable ones.
Date published: 2020-03-01
Rated

3

out of

5
by
NewMum
from
Soft and easy to wash; however I found them rather small (I'm a C cup) and they move around too much.
Date published: 2020-09-07