Band-Aid
Band-Aid Advanced Healing Blister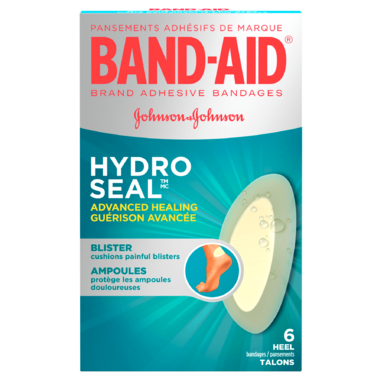 Band-Aid
Band-Aid Advanced Healing Blister
6 Bandages
Band-Aid Advanced Healing Blister
is rated out of
5
by
7
.
---
Description
Band-Aid Brand Hydro Seal Blister Heels Bandages help keep germs out and your body's natural healing power in using hydrocolloid technology. Within 24 hours of application, a white bubble will form under the bandage which shows that the healing process has begun.

These waterproof bandages provide advanced wound care and cushion to help protect blisters. Cushioning provides protection and relief from painful blisters and wounds. Ideal for use on heels, these bandages deliver multiday protection and stay on even when putting on shoes and through showers. This package contains 6 individually wrapped Hydrocolloid Gel Bandages, each measuring (2.9 cm x 5.4 cm).

Features:
Dual-Action Seal: Helps keep germs out and your body's natural healing power in
Stays on for multiple days, even through hand washing and showers
100% Waterproof
Ideal for heel blisters
Not made with natural rubber latex.
Instructions for Use: Before Use, see instructions inside of box
Ensure you clean the wound and dry it completely. To ensure the bandage properly adheres, it is recommended that you do not apply creams, ointments or lotions to the wound. Carefully remove the white paper tabs and apply the gel bandage directly on the wound. There is no pad. The Dual-Action seal that is formed provides the optimal healing environment. Within 24 hours of application the product will begin to swell and a white bubble will appear over the wound. This This bandage is designed to deliver multi-day protection. You can wear it until it begins to detach. If removal is required, carefully loosen one end by stretching it along the skin. Do not pull upwards.
*Compared to ordinary bandages

Caution: Those with diabetes or poor circulation should use under doctor's supervision. Do not use on fragile skin, burns, stitches, infected areas, deep puncture wounds, existing scabs or on children under 2 years old.
Sterile unless individual wrapper is opened or damaged

Shipping & Returns
Unfortunately, due to the nature of this item, we cannot accept any returns.
We are only able to ship this item to Canadian customers.
Click here for more information
Rated

1

out of

5
by
LB2004
from
Supposed to stay on for days, hours maybe
I have a pack of both the heel and the toe sized ones of these. I do not recommend either of them, will not buy again. Put them on after cleaninf the blisters and before bed, last over night but after a few hours of walking around they are a third of the way off within 12 hours of wearing. They do grab onto sock lint well and collect that as they peel off. They were recommended to me and i have since yelled at that person for recommending a useless product.
Date published: 2022-08-02
Rated

5

out of

5
by
Alex1
from
Amazing
I got these after both my heels were torn and completely left open to the elements. I thought there was no way they wouldn't get infected as the open blisters were about the size of a quarter of each heel. Luckily I bought these and they not only stayed on for days after I showered multiple times, but they also helped in healing! Amazing product!!! Way better then another other bandaid I've come across
Date published: 2019-09-05
Rated

1

out of

5
by
ohshannona
from
Useless
I bought these band aids specifically because I have a blister and wanted better coverage as it healed. The directions say that it should last at least a couple days, and I have not had one stay on and sealed for more than an hour. I followed all the directions and I am more than frustrated. I guess I will be going back to regular ones and save myself money and frustration.
Date published: 2022-05-25
Rated

1

out of

5
by
Momof2
from
Didn't stay on for a day!!
I bought these for my son as he has blisters on both heals. They did not stay on for a full day. Yes he does a lot of walking in a day but they say they will stay on for several days.
Date published: 2020-06-13
Rated

5

out of

5
by
JenXO
from
Amazing!
These bandaids were a saviour for my son who wears a AFO to walk. He developed a pressure sore from his boot and this was the only thing that protected his foot and helped it heal.
Date published: 2020-03-08
Rated

5

out of

5
by
Serena1234
from
Acne and blisters
I've been using this product for 2 weeks now and it has helped my acne scars and blisters on my heels. I apply them at night and in the morning everything is almost cleaned up.
Date published: 2021-02-13
Rated

5

out of

5
by
lesleeeee
from
Great to have in your hiking
helps me a lot when I go for a long hike! Great to have in your hiking pack incase you get a blister. Would recommend to try it.
Date published: 2020-08-31