Bathorium CRUSH Eucalyptus Apothecary Rejuvenating Bath Soak Duo Pack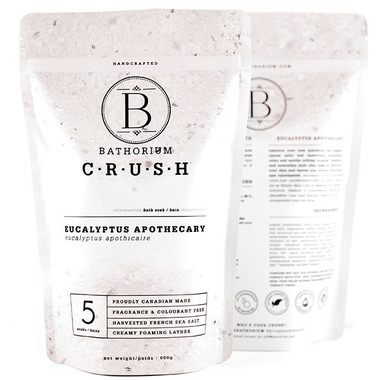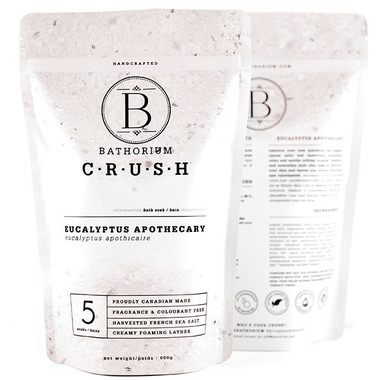 Bathorium CRUSH Eucalyptus Apothecary Rejuvenating Bath Soak Duo Pack
Buy now and get double the bath time bliss! This duo pack has a full retail value of $66!
For centuries, eucalyptus essential oil has been known for its powerful healing properties. Bathorium CRUSH Eucalyptus Apothecary Rejuvenating Bath Soak has harvested the purest form of eucalyptus, peppermint, tea tree and wintergreen essential oils to truly penetrate deep within the muscle tissue, leaving your whole body in complete euphoria.
Features:
Epsom salt based to sooth sore muscles
Clears sinuses
Great for foot soaks
Tingles skin
Ingredients:
Sodium Bicarbonate, Citric Acid, Sea Salt, Epsom Salt, Kaolin Clay, Moroccan Lava Clay, Sodium Lauryl Sulfoacetate, Jojoba Oil*, Coconut Oil*, Aloe Butter*, Tea Tree Oil*, Eucalyptus Oil*, Peppermint Oil*, Pine Oil*, Wintergreen Leaf Oil*, Camphor Oil* Eucalyptus Leaf* Aloe Leaf Juice* *Certified Organic. Allergens: NUT OILS + COCONUT
Organic (70%), Vegan, Gluten Free, Fair Trade, Phthalate Free, Fragrance Free, Colourant Free






Cindy:
a couple of weeks ago
Love love love this product. Not only does it smell great and not that overbearing (I don't handle strong scents well) but the fizz lasts awhile (they don't disappear after a few minutes) and it makes your skin silky smooth. I ended up buying like 3 of these so I don't run out and shared with my sister. You would not be disappointed.. great product and great pricing!
Page
1