Belly Buttons & Babies Unscented Diaper Cream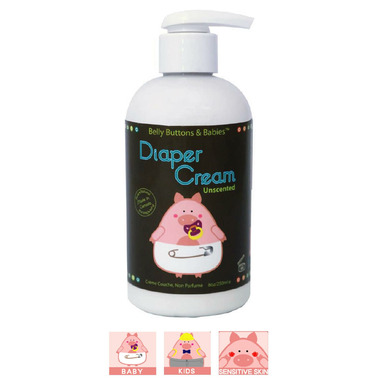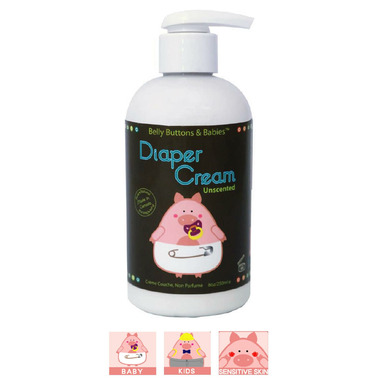 Belly Buttons & Babies Unscented Diaper Cream
This Award Winning Diaper Cream is perfect for baby's bottom. It acts as a gentle diaper/barrier cream and moisturizes and protects babies sensitive skin, soothing diaper rash. It spreads on and cleans off easily to minimize discomfort, while providing a strong barrier against wetness. Baby's skin is left soft, smooth and naturally healthy, promoting healing and comfort. Anti-oxidant and anti-inflammatory organic ingredients are included for the prevention and relief of skin irritations.

Relieves skin irritations; does not stain or interfere with the cleaning of cloth diapers; the pump prevents cross-contamination

Directions: Apply after each diaper change or as required.

Ingredients: Purified water, organic calendula extract (calendula officinalis), organic shea butter (butyrospermum parkii), rosemary (rosmarius officinalis) leaf extract.

For external use only. Keep out of reach of children. If product gets into eyes, rinse with warm water.

Natural, Organic, Fair Trade, Sugar Free, Vegan







Kelly:
a few months ago
I love this cream, I use it as a hand moisturizer. It absorbs well and leaves my hands feeling soft - it doesn't leave my hands feeling greasy.
I'm also pleasantly surprised by how well this is working for me as an underarm deodorant! My guess is that maybe the shea butter has antibacterial properties. Shea butter is going to save me a lot of time/money that I would have spent on natural deodorant products.
The ingredients here are listed with the shea butter as the third ingredient, but on the bottle I received the shea butter is listed as the second ingredient, so I don't know if the formula has changed, or if it's listed in error?
Page
1