Biokleen Free & Clear Laundry Liquid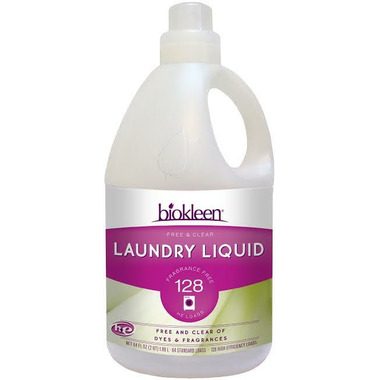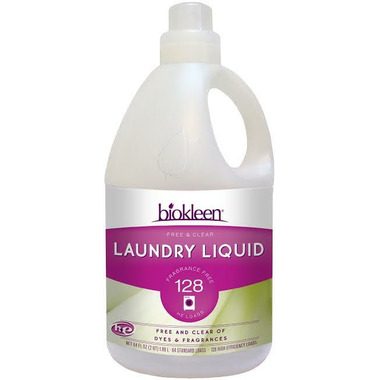 Biokleen Free & Clear Laundry Liquid
Biokleen's fragrance free formula is gentle on senses and skin without sacrificing cleaning power. Plant-based suractants and extracts of grapefruit seed (has no scent) clean tough stains and odors. Rinses clean and leaves no harsh fumes or residues on fabrics.
Features:
Truly 3x concentrated.
Fragrance free for sensitivities and allergies.
Cleans tough stains and odors.
No artifical fragrance or colors.
128 HE Loads/64 Standard Loads.
Tips for Use:
Use 1/2 cap for HE washers, delicates or hand washing.
Use 1 full cap for standard washers.
Pre-treat stains by gently rubbing directly into affected area.
Ingredients:
Water (filtered), Laureth 7 (plant based surfactant), Cocamidopropyl Betaine (plant based surfactant), Sodium Lauryl Sulfate (plant based surfactant), Lauramine Oxide (plant based surfactant), Glycerin (vegetable), Sodium Chloride, Sodium Carboxymethyl Inulin (pnat based chelant), Citrus Grandis (Grapefruit) Seed Extract, C10-16 Alcohols (plant based).
Keep out of reach of children. CAUTION: In case of eye contact, flush with cool water for 15 minutes. In case of ingestion, do not induce vomiting; drink plenty of water to dilute.