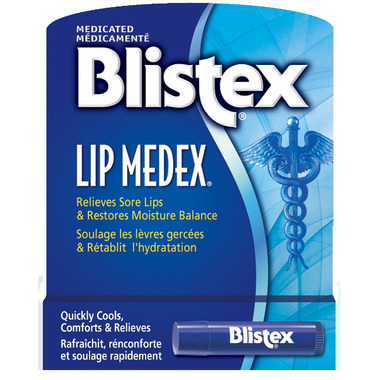 4.25 g
Blistex Lip Medex
is rated out of
5
by
149
.
---
Description
Blistex Lip Medex is formulated to provide quick cooling lip relief you can feel working.

Lip Medex also helps to restore a healthy moisture balance to lips.

Sore Lips: Lip Medex's medicated ingredients deliver a noticeable and immediate cooling action to provide fast relief from the hot, itching sensations that accompany sore lips.

Serious Dryness: Lip Medex provides a special barrier that helps lip cells return to their natural moisture balance.


Rated

5

out of

5
by
Leslie
from
This product is wonderful. It helps to soothe dry, chapped lips and even prevents a cold sore break-out. As soon as I feel the tingling sensation that precedes a cold sore, I apply Blistex Lip Medex and the cold sore doesn't erupt. Remarkable product!
Date published: 2012-06-29
Rated

5

out of

5
by
ninthum
from
I absolutely love this lip balm! Ive been using this product for years and now refuse to use any other lip balms. The only thing I would say to keep in mind is that this lip balm does give you a kind of cooling sensation on your lips when you put it on. Even though I dont mind the sensation and think its actually quite nice I do know some people that arent the biggest fans. So, if youre someone who isnt a huge fan of these types of sensations this product may not be for you.
Date published: 2020-01-15
Rated

5

out of

5
by
Amy
from
One of the best medicated over the counter lip balms you will find - it really works!
Date published: 2012-04-20
Rated

5

out of

5
by
emmac104
from
This stuff is...I cant even find the words to describe it. Like holy water from the gods, sent down from the heavens above to save any and all chapped lips in the coldest and driest winter months. Every single time I put this on it lifts my mood, heals my lips, and keeps them moisturized more than any other chapstick Ive ever tried. Ive gotten countless people hooked on it and whenever I see a stranger use it I know theyre a homie.
Date published: 2020-01-24
Rated

5

out of

5
by
courtneyp5d0a
from
The only lip product I trust besides straight Vaseline. Over the years Ive developed really sensitive skin especially on my lips so this is truly the only thing that doesnt bother me. I use it all year round just to maintain lip hydration but I pair it with Vaseline during extra dry winters. Its cooling for relief but also provides protection. I have one in every room in the house and in every bag I carry so Im never without it.
Date published: 2020-03-02
Rated

5

out of

5
by
brittanyy1296
from
Holy grail. I use this on my lips almost every day. It is so moisturizing and I can actually feel it healing my chapped lips. It does have a mild smell/taste that I dont mind. If I put lipstick on Ill usually put this on first to help moisturize. It has a similar texture to Vaseline but trust me it isnt. I love this product and would recommend it to anyone with chapped lips looking for a fix! Also very affordable!
Date published: 2019-12-01
Rated

4

out of

5
by
allycias
from
Seriously great for someone looking for a cheap but effective brand. I used to loved chapped stick and this was one of the winners back in high school. All there scents are amazing but the original is really the best. The do work to heal your lips. They keep your lips from getting chapped while healing the damage already done from dry lips and you can't beat the price and convenient of them in almost every store
Date published: 2019-11-15
Rated

5

out of

5
by
kristina1978
from
I was at the grocery store with my lips on fire they were so chapped and dry I picked up this product in the checkout line and put it on by the time I was done paying my lips felt a hundred times better and by the end of the evening my lips were back to normal this is a miracle product and so budget-friendly I stock up on this product every fall to get us through the winter
Date published: 2019-11-10