Blum Naturals Daily Cleansing & Makeup Remover Towelettes Soothing
Coconut Extracts
60 Count Towelettes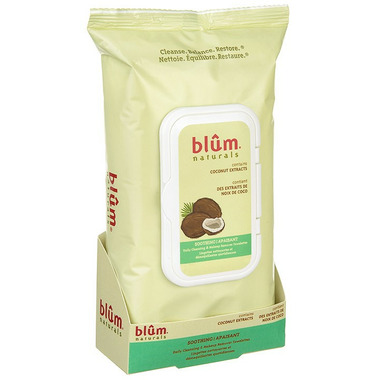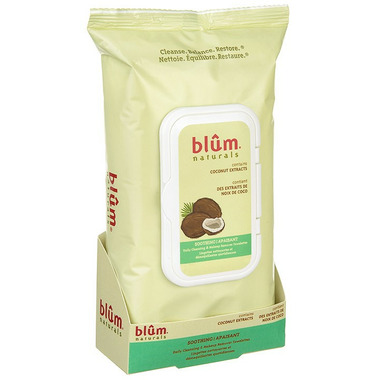 Blum Naturals Daily Cleansing & Makeup Remover Towelettes Soothing
Coconut Extracts
60 Count Towelettes
Blum Naturals Daily Cleansing & Makeup Remover Towelettes Soothing are infused with natural and organic botanicals that removes eye & face make-up. These soft wipes are for daily use and keep your skin looking and feeling smooth, refreshed and moisturized. The featured ingredient in this product, Coconut Extracts, also known as Cocos nucifera, is derived from the actual meat of the coconut and valued for its hydrating properties. It's a highly absorbent and nourishing extract, which means essential moisture is able to get to the skin, fast.
Features:
Made with certified organic ingredients
No synthetic preservatives or fragrances
Paraben-free
No sodium laureth sulfate
Alcohol free
Hypo-allergenic
Biodegradable

pH balanced
Not tested on animals
Ingredients:
Aqua (water), gluconolactone, cocos nucifera (coconut) oil, decyl glucoside, sodium benzoate, calcium gluconate, dehydroacetic acid, glycerin, coconut flavour.