BodyBreak Silver 50+ Multivitamin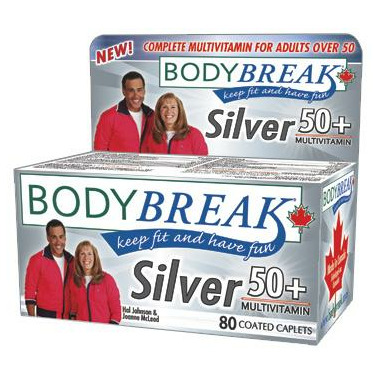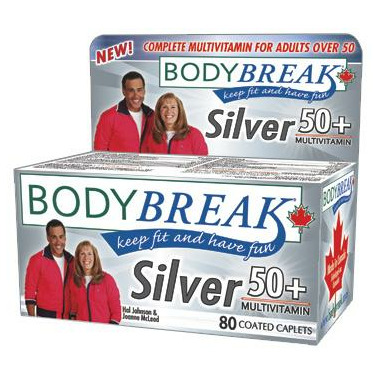 BodyBreak Silver 50+ Multivitamin
- We're sorry, this product is no longer available!
- Shop for other products in: Mature

Complete multivitamin for adults over 50.

Don't settle for an all-purpose multivitamin if you are over fifty. You can take a vitamin that is specially formulated to fit your nutritional needs. BodyBreak Silver is a complete multivitamin with added B, C, and D vitamins, along with lutein and lycopene for eyesight and heart health.

Product Summary:
With lutein to help maintain eyesight
With ginkgo biloba to help improve memory and concentration.
Only 4 non-medicinal ingredients.
Uses vitamin and mineral sources that are easier to absorb.

Supplement Facts:
Vitamins
Vitamin A 475 mcg/1500 IU
Beta Carotene 300 mcg/2000 IU
Vitamin B-1 2 mg
Vitamin B-2 4 mg
Vitamin B-6 5 mg
Vitamin B-12 20 mcg
Niacin 10 mg
Vitamin C 85 mg
Vitamin D 12.5 mcg/500 IU
Vitamin E 35 mg/50 IU
Vitamin K 25 mcg
Biotin 40 mcg
Folic Acid 500 mcg
Pantothenic Acid 10 mg

Minerals
Calcium 100 mg
Manganese 5 mg
Iron 2 mg
Zinc 8 mg
Chromium 10 mcg
Iodine 100 mcg
Copper 1 mg
Magnesium 50 mg
Phosphorus 33 mg
Molybdenum 50 mcg
Selenium 100 mcg
Ginkgo Biloba 40 mg
Lycopene 300 mcg
Lutein 500 mcg

Non-medicinal Ingredients:
Powdered Cellulose
Corn Starch
Stearic Acid
Magnesium Salt

Suggested Use:
Adults - 1 caplet daily with food.
Take a few hours before or after taking other medications. Do not exceed the recommended daily dose. If taking other supplements, read label, as other supplements may contain the same ingredients. Consult a healthcare practitioner prior to use if you are taking blood thinners. People sensitive to nicotinic acid niacin may experience flushing of the skin that is generally mild and transient.