Bummis Super Whisper Wrap Diaper Cover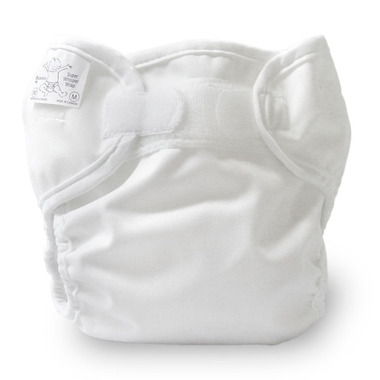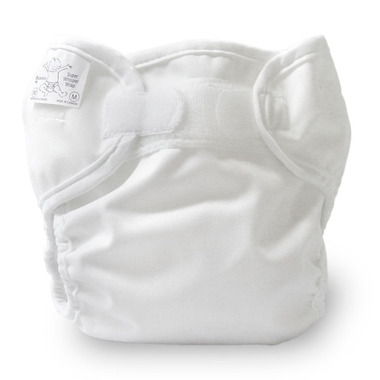 Bummis Super Whisper Wrap Diaper Cover
The Super Whisper Wrap is a very dependable cloth diaper cover with a proven track record. A mainstay in any 2 part cloth diapering system, it combines extreme functionality and the latest in cloth diapering technology with fun and colourful prints. And this premium but affordable cloth diapering product not only looks marvellous, but also has a remarkably good fit on most babies. The generous cut of this cover makes it suitable for any type of flat or contoured cloth diaper, or any type of pre-formed, hook and loop fastener or snap-closing cloth diaper.
Features:
Durable waterproof layer concealed within 2 layers of ultra soft polyester fabric ensures that no laminate touches your baby's skin
Although this marvellous fabric is waterproof and will stand up to the rigors of industrial washing, it is comfortable for baby - and much more breathable than plastic or vinyl
Very adjustable - Hook and loop closures with an innovative overlap design that ensures a custom fit on any baby
Durable, heavy-duty elastic around legs and tummy which will not wear out with repeated washing
Soft, smooth polyester knit bindings for a comfortable, stretchy fit, and a leak-proof seal
Super-sized fold-back wash tabs to protect your laundry from rogue attacks by hook and loop closures
Generous sizing means fewer cloth diaper covers to buy, while still assuring a great fit


Amanda:
about a year ago
At first I was upset and disappointed at the size- it seemed huge compared to the previous size. But once I tried using it I realized how flexible they are: the Velcro makes it possible to make them as small as you need. I thought it would look bulky and ridiculous once she was dressed, but it doesn't. So much more customizable than the ones with snaps!
Still my favourite cloth diaper covers! I've been hand-washing mostly, but occasionally throw them in the wash and they are holding up great. They do take a surprising length of time to dry!
They do an excellent job of keeping the wet inside and not on her clothes. If you don't put them on correctly, or if you're using the wrong size cloth diaper for your little one, they might let some moisture through (you need to actually COVER the diaper).
Highly recommended!
Shanon:
more than a year ago
Very happy with this product. Seems to be reasonably priced compared to other cloth diaper systems. The super whisper wraps are very durable. I had also purchased the entire kit which contained a couple super brite diaper covers and they didn't hold up very well in the laundry. I only used them for a couple months.
Page
1