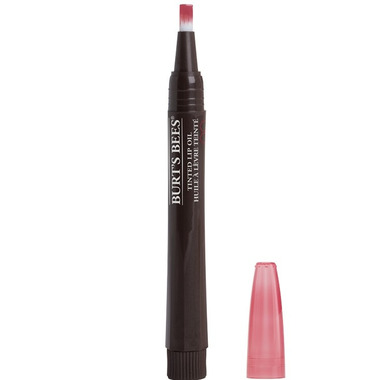 1.18 mL
Burt's Bees Tinted Lip Oil
is rated out of
5
by
24
.
---
Description
For a glossy sheen that never feels sticky, reach for our all-new Tinted Lip Oil. A 100% natural blend of nourishing Meadowfoam Seed and Coconut Oils, our hydrating formula reduces the appearance of fine lines and lends lips a hint of sheer color.
Features
:
Reduces the appearance of fine lines.
Moisturizes to leave lips soft & smooth.
100% natural
Non-sticky formula
Strengthens delicate skin, with nourishing Meadowfoam and Coconut Oils.
6 shades of sheer pigment
Formulated without parabens, phthalates, petrolatum, or SLS
Highlights

Rated

3

out of

5
by
Redb
from
Dispenser sucks
I've been looking for a natural lip colour that also moisturizes and this seems to fit the bill...except the dispenser absolutely sucks. I use the glow stick in Peony (LOVE!) and saw this and the colour looked marvelous. I got it home and had to Google how to use it...I had to turn it 20 or 30 times (how many clicks is that?!) and when the product finally came out...it wasn't enough to cover 1 lip. So I clicked it a few more times and then had a mess. The actual product is really nice. I love the colour, but the packaging/dispenser is horrid. I won't purchase again unless that changes. So sad.I wish I'd read reviews before purchase.
Date published: 2019-12-20
Rated

5

out of

5
by
Josie
from
Really nice product! I have chronically dry lips and am very happy that Well.ca is carrying this product at a much better price than brick-and-mortar drugstores. The lip oil imparts a lovely sheer veil of colour while keeping my lips from being ravaged by the harsh Canadian winter weather. Lip colour can be layered for deeper colour payoff without being sticky. Nice and lightly scented as well. No reactions on my very sensitive skin.
Date published: 2018-01-12
Rated

4

out of

5
by
Jen
from
This stuff is pretty good once you get it going, though doesn't offer a ton of colour. I've got the darkest shade available and it's subtle. Doesn't last terribly long but I'm not in it for day-long lipstick coverage, just to keep around for a touch of shine and colour and better lip health for events and photos. I'm a Burt's Bees lip balm girl otherwise. Smell is sweet like raspberry jam and honey, I suppose. Not distracting but nice. Re: getting it started: just when you think you've turned the dispenser end thing so many times, crank a little more. I was about to write something to Well.ca about how I got a dud, then just cranked some more. Keeps it from overdispensing I guess, and is just a few cranks to dispense one use worth, now that it's started.
Date published: 2018-06-26
Rated

1

out of

5
by
EmeraldLC
from
Dispenser does not work, product then leaks
I was very excited to buy showering sunset at the drugstore. I usually love all the other Burt's lip products and have multiples of their beeswax lip balm. Unfortunately, When I tried using the lip oil, the dispenser was not working. I rotated the dial over 25 times and nothing came out. I tried putting it upside down and right side up. Nothing was happening and the dial was making just clicking noises. I left it for awhile then tried again a few hours later. I dialed it again many times again, still nothing. Finally I tried tapping it on the table and then it seemed to loosen and was just oozing out and not stopping. It leaked a lot and wasted the lip oil. The actual product itself is smooth and moisturizing. It would be great if the dispenser worked better. Lovely colour. Pretty dissspointed in this purchase. Burt's bees is usually my go to product. I can't even refund it since the deal was broken for me to try using it after purchase.
Date published: 2019-05-15
Rated

5

out of

5
by
Charmaine
from
Had a little issue with the gloss not coming through when applied, but you just have to work the twist at the bottom a lot. Now it is working fine, and I am really pleased, because this gloss is not sticky like others products I have used. Would highly recommend it, and I would purchase this again.
Date published: 2018-05-29
Rated

5

out of

5
by
Karen
from
It's moisturizing, sheer, and requires no fingers dipping into a pot. I've been wearing nothing but these lip oils and I hope they keep selling them. They give the lips a little amped up natural colour which is good for old ladies like me! 🙃
Date published: 2019-08-06
Rated

5

out of

5
by
Becky
from
Very Moisturising. I got the colour Showering Sunset. It's a my lips but better colour, and it's beautiful. It smells like bubblegum to me. And it's great for a natural everyday lip colour. I really want to pick up more of these.
Date published: 2018-02-08
Rated

5

out of

5
by
Victoria
from
This is the first lip gloss I have used and will probably be the last, I love it. As other reviews say, it takes a while to get the gloss to feed out of the brush and it doesn't last all day but I love how it goes on and feels.
Date published: 2018-11-14