Central Roast Balance Mix for Women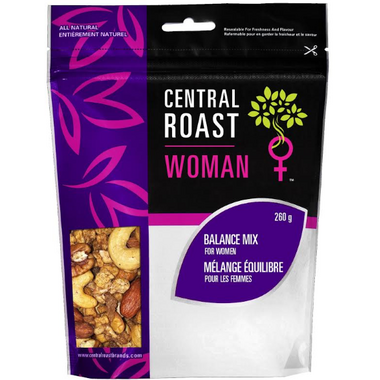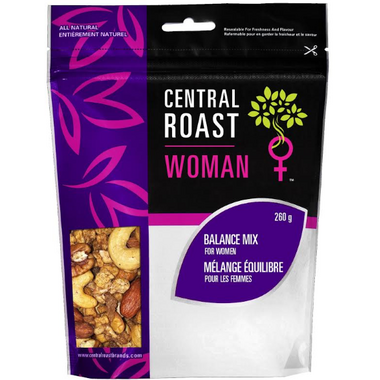 Central Roast Balance Mix for Women
- We're sorry, this product is no longer available!
- Shop for other products in: Trail Mix

Satisfy that sweet craving and the need for energy with a combination of antioxidants, anti-inflammatory and heart healthy ingredients. Roasted almonds with apples, ginger, cinnamon and pomegranate - The perfect mix to balance out your life.
Health Benefits:
Apples contain quercetin - a powerful antioxidant that protects brain cells from degeneration. They are are also high in potassium- a mineral that helps control blood pressure, and pectin, a soluble fibre that is said to reduce cholesterol.
Almonds are a rich source of fiber, protein, heart-healthy fat, antioxidants and vitamins and minerals, making them a one-stop food.
Cashews have a lower fat content than most other nuts, approximately 82% of their fat is unsaturated fatty acids, plus about 66% of this unsaturated fatty acid content are heart-healthy monounsaturated fats.
Ginger contains very potent anti-inflammatory compounds called gingerols which help relieve pain and inflammation. It is also known for its antioxidant and immune boosting action.
Pecans are high in healthy unsaturated fat and contain more than 19 vitamins and minerals including vitamins A, B, and E, folic acid, calcium, magnesium, phosphorus, potassium, and zinc.
Pomegranate Powder is an excellent source of potent antioxidants like flavonoids and polyphenols, which reduce oxidative damage to cells caused by harmful free radicals.
Cinnamon contains large amounts of highly potent polyphenol antioxidants that protect the body from oxidative damage caused by free radicals. It helps the body fight infections and repair tissue damage as well as lower blood sugar levels.

Ingredients:
Diced apple, cashews roasted, almonds roasted (almonds, wheat starch and/or potato starch, citric acid), diced ginger (ginger, cane sugar), raw pecans, pomegranate powder (pomegranate, maltodextrin), cinammon powder.