Central Roast Energy Granola
Dark Chocolate & Raspberry
325g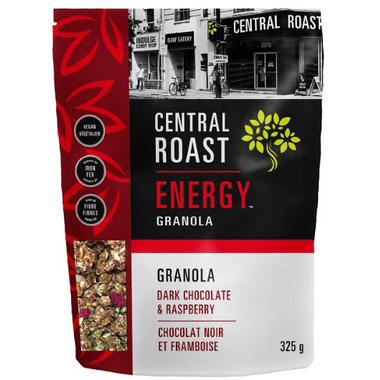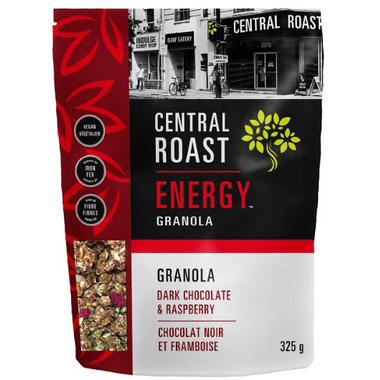 Central Roast Energy Granola
Dark Chocolate & Raspberry
325g
- We're sorry, this product is no longer available!
- Shop for other products in: Granola

A powerful mix of oats, sunflower seeds, pumpkin seeds, zingy raspberries, slivered almonds and dark chocolate chips. With 8g of protein per serving, and a source of iron and fibre, this is a perfect mid-day snack to add extra energy to your day!

Health Benefits:

Oats
are loaded in dietary fiber (containing more than any other grain) and have a range of healthy cholesterol-lowering properties. Oats are an excellent source of manganese, a very good source of phosphorus as well as a good source of copper, biotin, vitamin B1, magnesium, dietary fiber, chromium, zinc, and protein.

Sunflower Seeds
provide a healthy source of essential fatty acids. They are also an excellent source of fiber, amino acids (especially tryptophan) which make up the building blocks of proteins, B Vitamins, phytosterols, and more.

Pumpkin Seeds
are a very good source of anti-oxidant vitamin E. This vitamin helps keep your cardiovascular system healthy - it dilates your blood vessels to help lower blood pressure, and thins your blood to reduce your risk of harmful blood clot formation. The seeds also boost your intake of protein - each ounce of seeds provides almost 9 grams of the nutrient.

Almonds
are a rich source of fiber, protein, heart-healthy fat, antioxidants and vitamins and minerals, making them a one-stop food.
Flaxseeds
(also called linseeds) are a rich source of micronutrients, dietary fiber, manganese, vitamin B1, and the essential fatty acid alpha-linolenic acid, also known as ALA or omega-3. The seeds come from flax, one of the oldest fiber crops in the world - known to have been cultivated in ancient Egypt and China.

Raspberries
are low in calories and fats. Nonetheless, they are rich source of dietary fiber, and antioxidants. They have an ORAC value of about 4900 µmol TE per 100 grams, crediting them among the top-ranked ORAC fruits.

Maca Powder
, a root that belongs to the radish family, is most commonly available in powder form. Grown in the mountains of Peru, it has been called "Peruvian ginseng." Maca is rich in vitamin B, vitamin C, and vitamin E. It provides plenty of calcium, zinc, iron, magnesium, phosphorous and amino acids.

Ingredients:
Oats, sunflower seeds, pumpkin seeds, dark chocolate chips (sugar, chocolate liquor, cocoa butter, soya lecithin), slivered almonds, sunflower oil, honey, organic brown rice crisps, flax meal, cane sugar, organic brown rice flour, vanilla extract (ethyl alcohol, water, vanilla beans, glycerine), maca powder, raspberries, kosher salt.