Cheeky Chompers Neckerchew Chewy & Co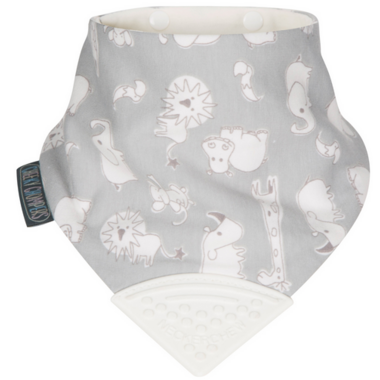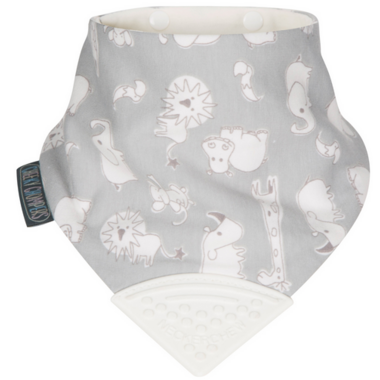 Cheeky Chompers Neckerchew Chewy & Co
- We're sorry, this product is no longer available!
- Shop for other products in: Bibs & Burp Cloths

Cheeky Chompers Neckerchew is the World's first chewy dribble bib for teething tots. The Bib is made of super-soft jersey cotton with an absorbent middle layer to lock away moisture. The teether is made from silicone that will never flake or peel. Made in the UK by two Momtrepeneurs.
Features:
Fun animal print with Chewy the hippo and friends, with a winter white reverse - Hip-hippo-ray!
Attached winter white teether
Super absorbent - 3 layers
Hygienic
2 bibs in one
Plain layers: 100% cotton
Patterned fabric: 95% cotton 5% elastane
One size with two adjustable poppers
Suitable for 2 month-2 years
Contains no phthalates or BPA
Your baby will love the texture of our little teething triangle. The chewy corner is designed to let your little one chomp their teething troubles away. Chewing also helps those little teeth break free! Wash after wash, the Neckerchew is built to last. It's also super-safe to chew on. That's because the teether will never flake or peel – as well as being 100% free from nasty phthalates and BPA.
Wouldn't it be great if there was a gravity-defying, always-there, un-throw-awayable teether? The Neckerchew stays put, just where baby needs it. No more gritty, fluffy teethers on the floor. Cheeky Chompers Neckerchew's soft, super-absorbent cotton soaks up all those teething dribbles. Then the clever middle layer locks them away from your little one's chest and chin. So baby stays drier and comfier. And, if it was possible, just a tiny bit cuter.
Flip that mess around! Ta da! Introducing the two-sided, now-you-see-it-now-you-don't marvel that is the Neckerchew. When one side's done its duty, just whip it over to the other – so your teething tot can keep on dribbling and chewing in style. Our brilliant range of colours and patterns are the perfect match for any outfit. And because they're reversible, you get two brilliant looks for the price of one.