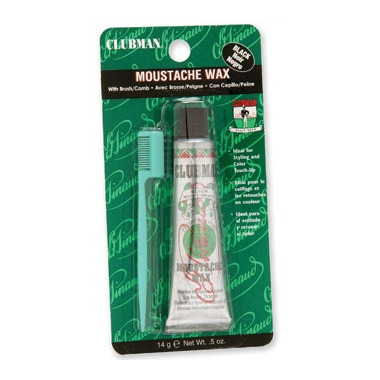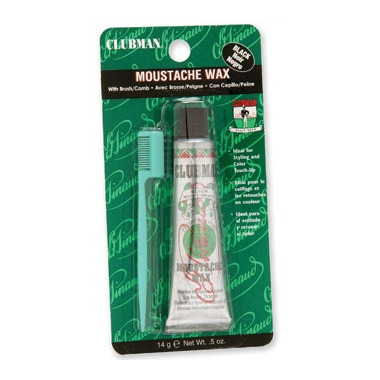 Moustaches have been around for thousands of years. All sorts of concoctions have been created to mold it, fill it in and to add a dash of color to cover gray. As waxes come and go, one brand remains steadfast in its commitment to men's grooming. That brand is Clubman.
Their moustache wax begins with a base of pure beeswax. Next they add naturally derived coconut oil plus specific ingredients to add control, volume and condition. They use a food grade preservative to minimize any possibility of irritation and skin sensitivity. Clubman moustache wax... the choice of men worldwide.

Features:
Beeswax makes for easy application
Application lasts all day but wasily washes out
Each tube comes with a mustache comb applicator
Covers or blends greys without hassle
Safe to use on sideburns beards and eyebrows
Application:
Apply a small amount of wax to hair using brush
Blend with comb to distribute wax evenly
Repeat until desired coverage is achieved
Ezra:
more than a year ago
Not a bad wax.

The wax is very, very black and is akin to shoe polish in that it will cover your fingers and face with black. Getting the moustache wet (either by beverages or rain) will cause some of the colour to come out, getting on your face or clothing. But its nothing that a little soap and water can't fix.

Overall, it's a great product, but wouldn't recommend it unless you really want to colour your 'stache.
Shaun:
more than a year ago
This moustache wax really did the job for me while attempting to get the perfect handlebars. I had used wax before without the applicator, and it was a lot more frustrating.

As it is black, it shows up on your face pretty well if you accidentally miss your moustache. It takes a few attempts before you can apply it without getting it on your face, but is awesome once mastered.
Page
1