Consonant Dealkalizing Deodorant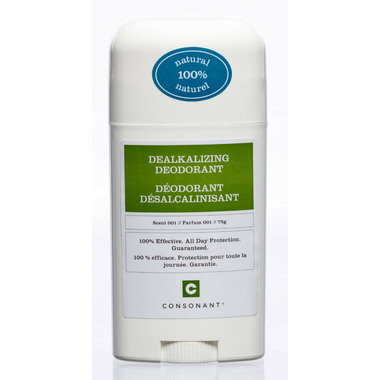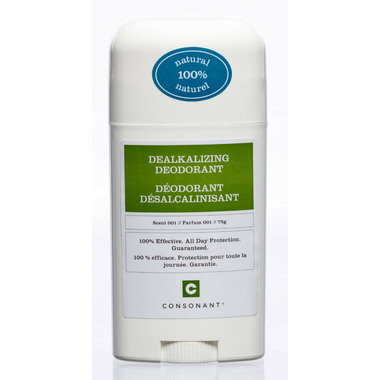 Consonant Dealkalizing Deodorant
Odour-causing bacteria flourish in an alkaline environment, so Consonant Dealkalizing Deodorant was formulated to bring the pH of your skin to 4.5-5 to inhibit body odour for 24 hours. Dealkalizing Deodorant glides onto the skin in a clear formulation and does not contain aluminum or polypropylene glycol.
Enjoy a fresh and delicate, unique citrus scent that blends sweet orange with cinnamon, coriander and cassia middle and bottom notes.
Features:
100% natural
24hr odour protection
Bentonite Clay and Arrow Root Powder absorb moisture
Cocoa Butter evens skin tone and hydrates
Aloe soothes
Directions:
Apply a thin coat as necessary.
Ingredients:
Cocos Nucifera Oil (Coconut Oil), Maranta Arudinacea Root Powder (Arrow Root Powder), Bentonite Clay, Sodium Bicarbonate (Baking Soda), Aloe Barbadensis Leaf Gel, Silk Amino Acids, Beeswax, Emulsifying Wax NF, Theobroma Cacao Seed Butter (Cacao Seed Butter), Zinc Oxide. Contains essential oils.