Consonant Ultra Moisturizing Organic Face Cream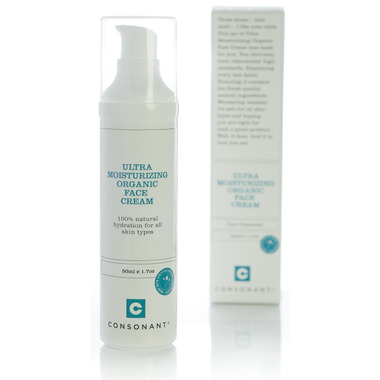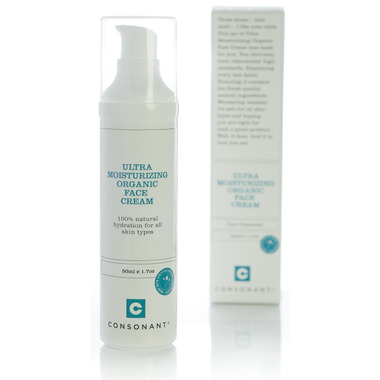 Consonant Ultra Moisturizing Organic Face Cream
Formulated to be moisturizing and deep penetrating, Consonant Ultra Moisturizing Organic Face Cream provides long-lasting results that will make your skin look and feel healthier, more radiant and youthful from the very first use. 100% natural.
The following ingredients (among others) were chosen to bring your skin back to its natural balance:
Cassia Angustifolia Seed Extract keeps skin well hydrated, reduces the fine lines and wrinkles and makes your skin looks smooth and more radiant from the very first use.
Grapeseed oil is a powerful antioxidant to keep skin looking youthful and help keep aging at bay.
Tamanu Oil repairs and helps promote healthy cell regeneration.
For best results: In the evening, apply to a cleansed face, neck, and decollete, before moisturizing. Repeat in the morning after splashing face with warm water and before applying makeup.

Ingredients:
Aqua/Water, Glyceryl Stearate, Vitis Vinifera Seed Oil, Angustifolia Seed Polysaccharide, Niacinamide, Butyrospermum Parkii, Caprylic/Capric Triglyceride, Tocopheryl Acetate, Glycerin, Cassia Olea Europea Seed Oil, Persea Gratissima Seed Oil, Borago Officinalis Seed Oil, Oenothera Biennis Seed Oil, Cetyl Alcohol, Linum Usitatissimum, Simmondsia Chinensis Seed Oil, Lactoperoxidase, Glucose Oxidase, Algae, Panax Ginseng Root Extract, Chamomilla RecutitaLeaf Extract, Aloe Barbadensis Leaf Extract, Echinacea Angustifolia Leaf Extract, Cucumis Sativus Extract, Rosemarinus Officinalis Extract, Calophyllum Tacamahaca, Alpha Bisabolol, Malileuca Alternifolia Leaf Oil, Lecithin, Xanthan gum, Citric Acid.