Crickstart Crackers Chili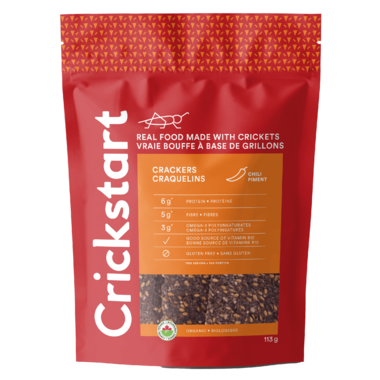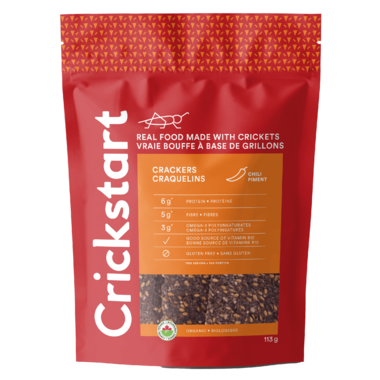 Crickstart Crackers Chili
Delicious chili-flavoured organic gluten-free crackers made with cricket powder. Apart from our star ingredient, the crackers incorporate fresh red bell peppers, seeds like flax, sunflower and hemp, and just enough spice. They're full of protein (20% by weight), omega-3, vitamin B12, magnesium and fibre.

They pair well with cheeses, spreads and dips. In the production of these crackers, the flax seeds are soaked until their gelatin is released; this gelatin acts as a no-sugar binder that holds the rest of the ingredients together, including the cricket powder. Made in Canada and certified organic by Ecocert Canada. 25 organic Canadian-farmed crickets per 30 g serving.

Ingredients (*organic): *golden flax, *sunflower seeds, *brown rice, *cricket powder, *flax, *red bell pepper, *hemp, *onion, *garlic, *cumin, *cayenne pepper, sea salt.