Dapple Pure n Clean Baby Stain Remover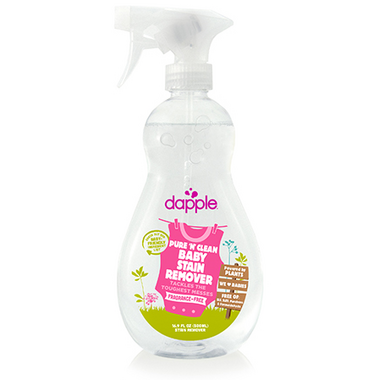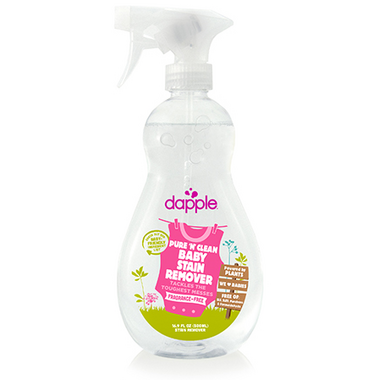 Dapple Pure n Clean Baby Stain Remover
Sometimes, cleaning the plate can make a big mess of clothes.

Features:
An effective & safer alternative to conventional pre-treatment formulas
Perfect for newborns, toddlers and kids with eczema
Enhanced formula specifically for use on cloth diapers
Works wonders on spit-up stains, poop and mashed in food, too!
Biodegradable and fragrance-free formula in a 16.9 oz. spray
Made without SLS, SLES, artificial fragrances, dyes, parabens, phthalates, 1,4-dioxane, chlorine, formaldehyde, optical brighteners, and alcohol
Ingredients
Water, glycerin (emollient), disodium lauryl sulfosuccinate (cleaning agent derived from coconut and palm oil), laureth 7 (cleaning agent derived from coconut), xantham gum (thickening agent derived from vegetables), calcium chloride (enzyme stabilizer derived from minerals), sodium citrate (water softener derived from citric acid), protease (enzyme to break down protein soils), amylase (enzyme to break down starch soil), tetrasodium iminodisuccinate (complexing agent), benzisothiazolinone (preservative).