Degree Women Clinical 5-in-1 Antiperspirant Stick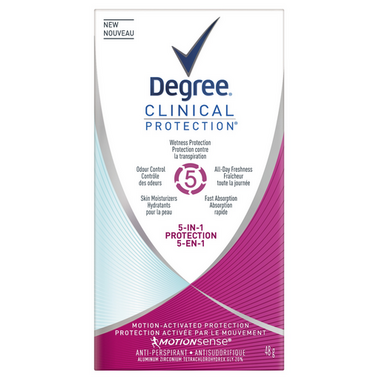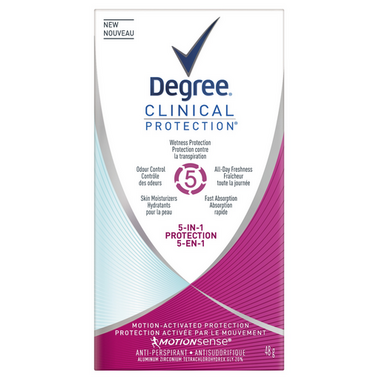 Degree Women Clinical 5-in-1 Antiperspirant Stick
Degree Clinical Protection 5-in-1 is our most advanced antiperspirant and deodorant ever. It provides five benefits in one product to keep you dry and confident: prescription strength wetness protection, body responsive odor control, long-lasting fragrance, skin moisturizing ingredients, and fast absorption.
The rate you sweat varies with body temperature, which changes through the day. The unique formula responds to the change in your body heat and works when you need it most.
For best results, apply Degree Clinical Protection 5-in-1 before bed, when your sweat glands are resting and your skin is most receptive. This gives the formula time to build a strong level of protection against sweat and odor for the day ahead.
Just two clicks of antiperspirant rubbed into dry underarms protects from sweat overnight and throughout the day – even after a shower. Degree Clinical Protection 5-in-1 also works when applied in the morning.
With long-lasting MOTIONSENSE technology, Degree Clinical Protection 5-in-1 releases bursts of freshness with every move you make.
What is MOTIONSENSE?
Exclusive to Degree, MOTIONSENSE technology helps keep you fresher with every move. Once applied, MOTIONSENSE microcapsules sit on the surface of the skin. As you move, underarm friction causes the capsules to burst, releasing fresh fragrance. The fragrance from ordinary deodorants and antiperspirants gradually fades throughout the day. Degree MOTIONSENSE is the only antiperspirant that reacts directly to movement, releasing extra bursts of fragrance as you move, so you stay fresher, longer."
Features:
Provides five benefits in one product: prescription strength wetness protection, body responsive odor control, long-lasting fragrance, skin moisturizing ingredients, and fast absorption.
Provides prescription strength wetness protection
Continuous underarm odor protection that keeps you feeling fresh all day
Non-irritant formula contains a blend of moisturizing ingredients
Dermatologist-tested