Delectable By Cake Beauty The Everything Powder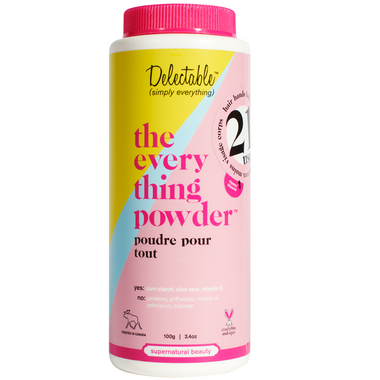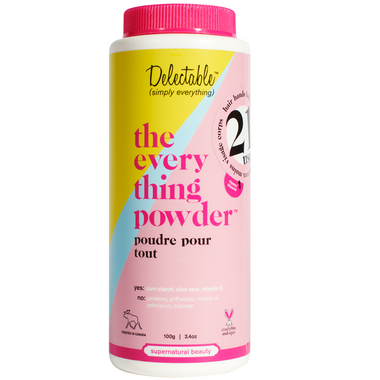 Delectable By Cake Beauty The Everything Powder
Meet The Everything Powder! Mixing natural starches with vitamin E and aloe vera, this multi-purpose miracle-worker hits you everywhere you want to tone down excess moisture and sweeten up your day. Naturally deodorize, volumize those lashes, matte-ify your face, pop it in your shoes. With over 21 uses, you'll love all the ways to play!
Features:
Driven by: Cornstarch, aloe vera, vitamin E
Certified: Cruelty-free & vegan
Excludes: Talc, parabens, phthalates, mineral oil, GMOs, petrolatum, triclosan
Ways to Play:
Full Body Freshen Up: Apply all over the body to feel fresh, smooth and smell great all day long.
Volumize Lashes: Apply one coat of mascara, brush powder on lashes with a cotton swab. Apply a second coat of mascara for an instant false-lash effect.
Boost Brows: Sprinkle onto a brow brush and work through hairs to thicken and add volume. Fill in as usual.
Calm Wax Pain:Apply before waxing to naturally cool skin and help prevent irritation.
Matte-ify Lips: After applying your lipstick, place a tissue over lips and dust with powder.
Bake Face: Press generous layer over concealed areas. Wait 5-10 minutes. Dust off for a creaseless finish.
Protect Shaved Skin: Apply to skin after shaving to soothe and help prevent irritation.
Set Eyeliner: Dust a light layer on top of your eyeliner to help keep it from running all day long.
And more... with over 21+ uses, you'll love all the ways to play!

Ingredients
: Zea Mays (Corn) Starch, Tricalcium Phosphate, Fragrance (Parfum), Aloe Barbadensis Leaf Juice, Tocopheryl Acetate, Lonicera Japonica
Natural, Vegan, Gluten Free, Fair Trade, Dairy Free






Kristi:
a few months ago
I actually love this stuff. My hair is lighter, so as a dry shampoo it works well for me. If you have never used a powder shampoo before then it will take some getting used to, but it is quite nice. As for the bottle size, it's bigger than the other ones available, including in the cake/delectable line and you only need a little bit of powder. My favourite use is to put it on top of a heavy cream so hands/legs/etc don't feel greasy.
Page
1