Dove
Dove Go Fresh Cool Moisture Cucumber & Green Tea Scent Body Wash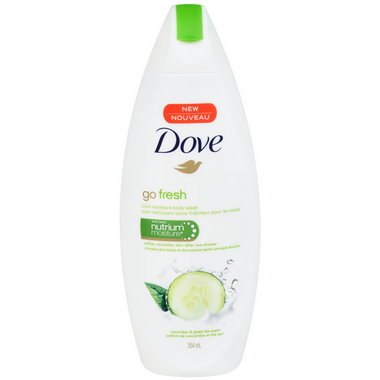 Dove
Dove Go Fresh Cool Moisture Cucumber & Green Tea Scent Body Wash
354 mL
Dove Go Fresh Cool Moisture Cucumber and Green Tea Scent Body Wash
is rated out of
5
by
2311
.
---
Description
Dove Go Fresh Cool Moisture Body Wash goes beyond refreshment to effectively nourish skin deep down* with NutriumMoisture. The crisp, soothing scent of cucumber and green tea offers a refreshingly light sensation for your skin.
Mild Cleansers Won't Dry Out Skin
Some body washes can be harsh, washing away more of skin's essential nutrients than Dove. With mild cleansers and naturally sourced moisturizers, Dove Go Fresh Cool Moisture Body Wash gently cleans your skin, leaving it soft and nourished with moisture.
Nourishes Skin Deep Down* with Moisture
Dove Go Fresh Cool Moisture Body Wash contains our NutriumMoisture formula, a blend of moisturizers and skin natural lipids, which absorb into the skin to nourish with moisture while you shower. While the heavy moisturizers in some other body washes sit on top of your skin, NutriumMoisture is absorbed by the skin, which nourishes skin deep down*. This formula works into a rich lather and rinses clean.
Cucumber and Green Tea Formula to Hydrate and Uplift
Dove Go Fresh Cool Moisture Body Wash is a refreshingly light sensation that's an uplifting moment for your skin. The crisp, soothing scent of cucumber and green tea will leave you with a cool feeling and refreshingly-hydrated skin.
(*Stratum Corneum)
What's in the Box:
Dove Go Fresh Cool Moisture Body Wash with NutriumMoisture, 354mL.
Features:
Helps retain skin's natural moisture
Hydrating and mild formula gently cleanses
Nourishes skin with moisture
Rich lather rinses clean
Crisp scent of cucumber and green tea
Leaves skin feeling refreshed and hydrated
Rated

5

out of

5
by
cmsb901
from
Reborn Again
I love the way this Body Wash leaves my skin feeling. The amount of lather is superb, and the scent leaves my skin smelling refreshed and is not overbearing at all. My skin seems healthier and feels so radiant after getting out of the shower when using this Body Wash - I feel reborn, refreshed and ready to tackle my day because I know my skin is taken care of. It leaves my whole body not only feeling healthy, but also looks much healthier too. Living in this Florida heat and humidity leaves my skin so dry. Now I have healthy looking skin all the time, Thanks to Dove.
Date published: 2014-08-28
Rated

1

out of

5
by
Gigi
from
We want the old formula back!!!
It seems I'm not the only one! Anyone who bought the cucumber and green tea scented products in 2020 seem to be very disappointed. Take notes Dove! Why would you change a product everyone ALL around the world loved for many years? I've used this scent for my deodorants, soaps, and body wash for so many years and I recently just bought a whole new batch and it's all awful! What a waste! What's worse is how Dove has done this to us in the middle of the most difficult year of the century. I mean, even the iconic Dove cucumber & green tea products now smell awful, how much worse can this year get???
Date published: 2020-07-01
Rated

5

out of

5
by
arienetteandthewolves
from
(This review was collected as part of a promotion.) I'm pretty brand loyal to Dove already so I was excited to try this product. I normally use the Beauty Bar religiously because it's the only soap that won't dry my skin. Guess I can add this line of body wash to that list :) I used this during winter in Saskatchewan, Canada. It's really really cold here and being indoors with the heater running a lot makes skin very dry so I was so happy to discover that this body wash leaves my skin smooth and hydrated just like the beauty bar. A little goes a long way, nice lather. The smell makes me think of spring picnics, I normally prefer floral scents so I'm hoping to find other fragrances soon
Date published: 2018-04-11
Rated

1

out of

5
by
bmc14
from
New formulation smells terrible
I've been exclusively using this body wash for over a decade, and I recently made my regular repurchase without noticing that it had been labeled "new" for its microbiome serum. When I went to use it in the shower, I thought at first that I must have gotten a bad batch and that it had somehow gone off, but then I noticed the subtle changes to the labeling of the bottle and realized the formulation had been changed. PLEASE bring the old version back—the new serum might be good for the skin, but the smell is enough to keep me from never purchasing this product again after loving it for so many years.
Date published: 2022-03-29
Rated

4

out of

5
by
britaniel0185
from
(This review was collected as part of a promotion.) My first impression was that the packaging is very inviting and the classic dove look. The scent of cucumber and green tea smelled like the coming of Spring after a long Winter and it made me excited to hop in the shower. The creamy texture felt great on my skin. It rinsed off leaving my skin feeling clean and moisturized. I would recommend this body wash to anyone who loves a double duty shower product that cleans and moisturizes. The only reason I didn't give 5 stars is because lately I have been using more bars and products with no packaging to attempt to have a zero waste bathroom.
Date published: 2018-04-02
Rated

4

out of

5
by
bethanito
from
(This review was collected as part of a promotion.) I never understood why cucumber and green tea are such great scents for products, since in real life they both are such mild if not non-existent smells. However, that being said, I love how refreshing the smell of this body wash is. Like all of Dove's products, it leaves your skin feeling incredibly soft and hydrated. You only need a little bit on your loofah to get a really nice lather going. I have somewhat sensitive skin and this doesn't bother me at all. I also really like that the scent is not overwhelming but just nicely hiding out on your skin. It's a nice way to wake up in the morning.
Date published: 2016-08-16
Rated

4

out of

5
by
danieller9007
from
(This review was collected as part of a promotion.) I waited about a week and a bit write my review becuase I wanted to be honest. I was sent the Dove cucumber ans green tea scent. This winter has been brutal on my skin. My legs and sides especially. I found that this body wash has helped me out in the short time I have used it. Its a rich creamy formula that foams well. I really liked this product and will repurchase different scents. For me this scent just smells like a dove bar. Mind you scent is just personal preference. Thank you @dove and @influensterca. I was scent this product for free from Influenster for my honest review
Date published: 2018-04-04
Rated

5

out of

5
by
symbolle89
from
(This review was collected as part of a promotion.) I'm so happy to have been chosen to be apart of the Dove Go Fresh test. To try this wonderful product, I was not disappointed at all with this body wash as usual Dove did a wonderful job with their product. The name say it all, I have been using this body wash all week long and I love it. My skin feels soft and new with a soothing scent of cucumber. If you're looking for a body wash that can change your mood this is the product to grab. After using this product for the pass week I have seen a lot of changes when it comes to the way my skin feels and my mood changes when I use it.
Date published: 2018-04-03