Dove
Dove Nutritive Solutions Nourishing Oil Care Shampoo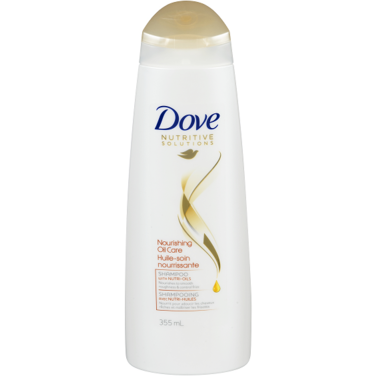 Dove
Dove Nutritive Solutions Nourishing Oil Care Shampoo
355 mL
Dove Nutritive Solutions Nourishing Oil Care Shampoo
is rated out of
5
by
96
.
---
Description
Dove Nutritive Therapy Nourishing Oil Care shampoo features a blend of nutri oils including Argan oil that rapidly absorbs into hair. Deeply nourish and replenish essential nutrients. It's next-generation nourishment for beautifully smooth, soft, shiny hair. Recommended for use with other products in the Dove Nutritive Therapy line.
Nourishing, Fast-Absorbing Shampoo
Take control of your dry, unruly hair. Dove Nutritive Therapy Nourishing Oil Care shampoo leaves you with smooth frizz-controlled hair.
Directions for Use:
Apply to wet hair, lather and rinse.
What's in the Box:
Dove Nourishing Oil Care shampoo, 355 mL.
Features:
Non-greasy shampoo
Contains almond and Argan Oil
Helps replenish essential nutrients
Leaves hair smooth, soft and shiny
From the Dove Nutritive Therapy collection
Rated

4

out of

5
by
Nat_and_cat
from
Makes my hair smooth and soft
(This review was collected as part of a promotion.) I've recently received a bottle of this shampoo free for review through Glam Sense (Topbox) program. This is a very good product. I've always used it in combination with conditioner. My hair is coarse and curly and frizz tends to be a problem. This shampoo does exactly what it says, it nourishes and reduces frizz. I love the light vanilla smell of the whole product line including the shampoo. The products make my hair feel weightless and there is no dandruff after I use these. Great for everyday use!
Date published: 2016-04-13
Rated

4

out of

5
by
SampleWitch
from
Shiny & Smooth Hair
(This review was collected as part of a promotion.) The Dove Nourishing Oil Care Shampoo smells amazing! I like these oil types of scents & hair products because of the added moisture that these products give. The first time I used it my hair was left with a voluminous clean with a smooth texture. The shampoo provides added moisture to prevent frizz and the oil penetrates into hair so your hair will still be smooth & hydrated for days. If you love shiny hair, use the shampoo every time you wash your hair with the conditioner! Dove makes the best oil shampoos & conditioners that I have used and they are super affordable!
Date published: 2016-04-15
Rated

4

out of

5
by
PixieStix91
from
Great Product!!!
(This review was collected as part of a promotion.) This is a very nice shampoo, I have never used a Dove shampoo in the past and I am not disappointed. The product does what is says, it uses nourishing oils to help nourish your hair, keeping it healthy and frizz free. After a couple weeks of using this product line and no other products in my hair, I did notice a serious reduction of frizzeness to my hair, and having fine hair the fact that the shampoo is meant to be weightless and doesn't weigh down your hair is a huge plus. I received this product from Dove and Glamsense to try out and review at no cost to myself but this has not affected my opinion on the product.
Date published: 2016-04-15
Rated

5

out of

5
by
Kgater
from
Great shampoo
(This review was collected as part of a promotion.) Dove Nutritive Care Nourishing Oil Shampoo This shampoo has a gorgeous, light scent, and it comes in a classic Dove hair care bottle. The lid is a nice shade of copper that makes me smile in the morning for some reason! Together with the conditioner, my fine, highlighted hair is soft and shiny. I was worried that I wouldn't have enough conditioning, but this pair work beautifully together. I tend to prefer more natural products usually, but I love how moisturizing this is. *product provided free of charge in exchange for review. Opinions are my own.
Date published: 2016-03-25
Rated

4

out of

5
by
Kaneesha
from
Soft, and great smelling hair!
(This review was collected as part of a promotion.) I received this product free to test and review from Glam Sense (by Topbox). I like this shampoo because of its light and sweet fragrance. I'm all about fragrance when it comes to my hair products, and then the benefits for the hair. I know that's really weird, but I love smelling stuff. This product fortunately had a good scent, and was good for my hair. My hair feels soft and nourished after use! Plus the nutri-oil formula in this hair was really good for my recently dyed hair. My hair is less frizzy after use. Would definitely recommend!
Date published: 2016-03-24
Rated

4

out of

5
by
Happycustomer
from
Value for Money
I wanted a moisturizing shampoo and conditioner as well has a smoothing product that left my hair soft but manageable. I used this shampoo and conditioner regularly for at least a week. I also used the style product. It made my hair soft and manageable without buildup. Only one tip with this product line - when using the style product ensure that you avoid applying it to the roots as too much there will make the roots look greasy. Very affordable and results were comparable to the expensive salon brands
Date published: 2019-03-26
Rated

4

out of

5
by
urbanGoddess
from
Love the consistency
(This review was collected as part of a promotion.) This shampoo has a really great consistency and no overpowering scent (which is good if you are scent sensitive). It's not too thick and not too thin, and lathers nicely. When you go to wash it out, it doesn't take forever. The results are decent, but I find my hair gets oily since I started using this product, faster than it normally would. But it's very soft in the mean time. I received this product for free from Glam Sense for review purposes.
Date published: 2016-04-15
Rated

5

out of

5
by
MaryG
from
My hair has been transformed!
(This review was collected as part of a promotion.) I have very long colour treated hair that tends to be on the dry side. I was shocked at how soft and shiny my hair was after one use. It lathers nicely and smells pleasant. I usually have to use a smoothing product after to deal with dry frizzy end, but not anymore! This is replacing my salon brand shampoo hands down.
Date published: 2016-04-16