e-cloth Kitchen Cleaning Pack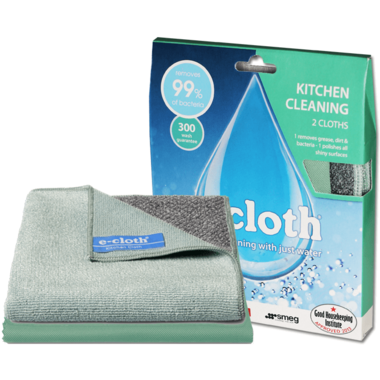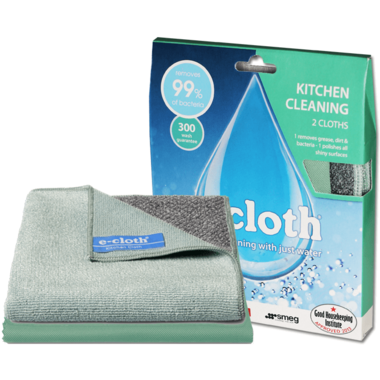 e-cloth Kitchen Cleaning Pack
E-cloth's Kitchen Pack provides everything you need to tackle grease and grime on surfaces and appliances. This twin pack includes a Kitchen cloth and a Glass & Polishing cloth. Use the durable and highly absorbent Kitchen Cloth, with its gentle scouring pocket, to effortlessly lift, trap and remove all stubborn stains, grease and bacteria from kitchen surfaces and appliances, all with just water. E-cloth's most versatile cloth, the Glass & Polishing Cloth's specialist fibre construction and weave increase the speed at which moisture is absorbed, to remove even the lightest grease and finger marks from all shiny surfaces and appliances, to leave them completely streak-free. It will easily outperform specialist liquid cleaners on surfaces like chrome and glass.
Features:
Chemical Free Cleaning using just water
e-cloths and water absorb and remove over 99% of bacteria
Can be machine washed over 300 times
e-cloths are guaranteed for three years
80% Polyester/ 20% Polyamide
Tips for Use:
A hot rinse under a tap is often enough for day to day use. Recommend machine wash once a week and tumble or hang dry. Do not use bleach or fabric softener.