Ecoideas Organic Brown Millet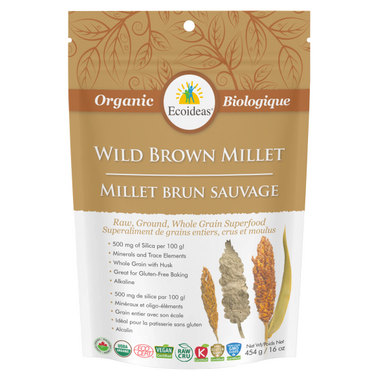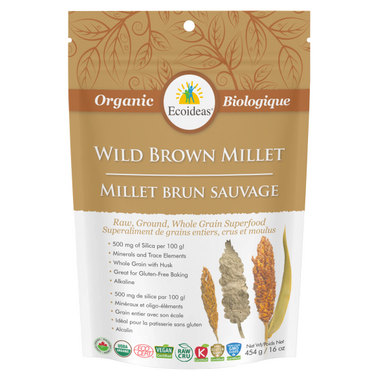 Ecoideas Organic Brown Millet
Through gentle stone grinding, all the vital components are retained in a bio-available form. This product is eaten raw.
Why Ecoideas® Brown Millet?
Whole Grains – highest minerals and trace elements content of all grains
Gluten Free – completely free of gluten and common allergens
Wild-form – grown in Austrian fields that are isolated from industrial activities
Certified Organic – highest standards of organic guidelines
A Major Source of Silicium (Silica)
The role of silicium is as important as calcium; while calcium strengthens the bones, silicium increases elasticity and facilitates the articulations of connective tissue. Every 100g of this brown millet contains 550mg of organic silica.
Brown Millet is Beneficial for:
Bones
Joints
Ligaments
Tendons
Blood pressure
Skin
Hair
Nails
Teeth
Suggested Use
Mix raw brown millet into muesli, freshly made fruit or vegetable juices, soups, yogurt or raw food. Serve 2 tbsp of brown millet mixed with grated apple as an appetizer, snack, or with breakfast.
Brown Millet Drink RecipeIngredients:
1 L of water
1 mango
2 tbsp of brown millet
2 tbsp almond meal
Preparation:
Blend all ingredients in a blender. Let sit for 2 min, then blend again. Enjoy a revitalizing drink!



Ingrid:
a few months ago
I like the benefits that are stated for this
Product. But my gut didn't feel well after I drank it in my smoothie, I tried using much less in some porridge and it didn't upset my gut. but I still don't like the raw taste. I think I will use Up the rest in a few baked recipes. How they taste will
Decide if I purchase this item again.
Page
1