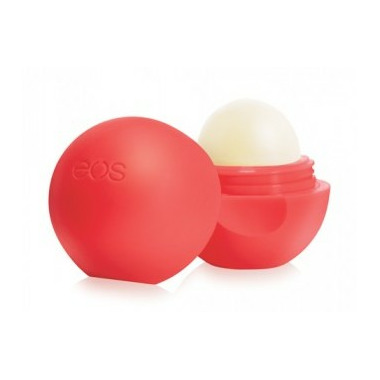 Summer Fruit
7 g
eos Smooth Sphere Lip Balm
is rated out of
5
by
159
.
---
Description
Treat your lips to an all-natural lip balm that's bursting with moisture and the refreshing flavors of strawberry, blueberry and peach.
eos lip balm in Summer Fruit is 95% organic, 100% natural, and paraben and petrolatum free. Packed with antioxidant-rich vitamin E, soothing shea butter and jojoba oil, eos keeps your lips moist, soft and sensationally smooth.

eos Lip Balm Features:
Long-lasting moisture
Shea butter & vitamin E
Smoothes on clear
Precisely glides on lips
Twist-off top
Gluten-free
Paraben-free
Petrolatum-free
Phthalate-free
Ingredients
: Olea Europaea (Olive) Fruit Oil*, Beeswax (Cire D'abeille)*, Cocos Nucifera (Coconut) Oil*, Simmondsia Chinensis (Jojoba) Seed Oil*, Natural Flavor (Aroma), Butyrospermum Parkii (Shea Butter)*, Stevia Rebaudiana Leaf/Stem Extract*, Tocopherol, Helianthus Annuus (Sunflower) Seed Oil*, Vaccinium Angustifolium (Blueberry) Fruit Extract*, Fragaria Vesca (Strawberry) Fruit Extract*, Prunus Persica (Peach) Fruit Extract*, Linalool**. *Organic. **Component of Natural Flavor. Certified Organic by Oregon Tilth.
Highlights

Rated

5

out of

5
by
Cherie
from
Just bought this and I'm loving it. Being prone to dry lips, I've tried almost every product out there. This is the best so far! The scent is light and pleasant. It goes on like a dream and stays put, even throughout drinking a beverage. It softened my lips after just one application. It doesn't cake or gunk up on your lips. It feels so easy to apply with the nice big surface. I love the container, however I don't think it would travel in your purse as well as a small stick. I have mine on my desk, where it's easy to find and doesn't get knocked over easily like the small sticks. I'm happy my daughter recommended it to me.
Date published: 2012-05-10
Rated

5

out of

5
by
Rose
from
Good scent and flavour - without being too strong. Love that it is all natural. It moisturized well, but after reading some other reviews, I think it may not be effective in repairing lips that are already badly chapped. I started using it as soon as my lips started getting dry, in the colder months, and it did work for me. I know that without it, my lips would be chapped and cracked by now. Instead, they are smooth. For the money, the size is generous. I also smoothed some on the backs of my hands, when they became chapped and started burning from being exposed to the cold wind, and I had no hand cream with me. It worked so well - even better than my usual hand cream.
Date published: 2011-11-20
Rated

5

out of

5
by
Whitney
from
I like this a lot. This flavour is light and fruity. I'd probably pick the green (mint) one over this, but it's still very nice. I love the shape of this lip balm and the container. It's the kind of thing I could picture in higher end make up (like a brand that charges $10 or more for lip gloss) because it's so unique and interesting. The lip balm itself is nice too. I like the mint better because I always like the tingly feel of mint on my lips. But all the flavors are nice and not too waxy but not too thin. I'd definitely recommend it!!
Date published: 2011-08-13
Rated

3

out of

5
by
Priscilla
from
It works ok but not super like some other lip balms.... I find you do have to re-apply throughout the day as it lasts for a bit. I was disappointed with the lack of smell. After reading the reviews and people commenting on the smell I chose this one and there's no smell really at all. So that sucks. I do like the design and how you roll it on. Feels really nice on the lips but the other disappointments will probably keep me from getting this particular one again, and maybe others from Eos...
Date published: 2012-03-20
Rated

3

out of

5
by
Samantha
from
It's such a cute, welcoming, interesting look for a lip balm so I had to get it when it first came out. It has been pretty good - the fragrance is nice without being overpowering. To my lips it's not as moisturizing as, let's say, Burt's Bees lip balms, but I find it more moisturizing than some other natural lip balms. I'm now around the base of my first eos, and it's getting a little cumbersome to put it on because of the shape, but it's still a lot of fun to reach for this cute container.
Date published: 2014-10-14
Rated

3

out of

5
by
Jennifer Ng
from
Overall Great Packaging, Great flavour, Great smell. The actual lip balm is just average (similar to Blistex, but better than their Smoothies collection). It's a little waxy and thicker (than the Aquafina lip balms). So if that's what you're looking for that's great. Didn't find it moisturized all that well. They dried out my lips a while after i put it on causing me to want to reapply every half hour. I've never tried a (mostly) organic lip balm before so that part was great!
Date published: 2011-08-24
Rated

3

out of

5
by
HM
from
i like that eos balm is natural, its not as silky as dr bronners but the waxiness makes it last longer. The container is cool but every time my kids use it they gouge the balm trying to get it closed...and my husband has pointed out that i look weird rubbing a little ball on my mouth so i don't use it in public. Summerfruit is however a fairly gross scent. i don't detect any berry, its all peach, sickly sweet and sour. The other scents are much nicer
Date published: 2013-06-01
Rated

5

out of

5
by
Junghee
from
I love this lip balm because it comes in an adorable packaging! It's a little ball that is a great conversation starter! :) It's so easy to just slide on your lips. What made me want to buy this other than it looked adorable is that it is 100% natural! That is amazing and i'm always looking for natural products. The lip balm is so smooth and feels great on your lips. It smells like peach rings and evan tastes like them too! overall 5 stars! :D
Date published: 2011-11-25