EVOLVh Healthy Hair Trio Box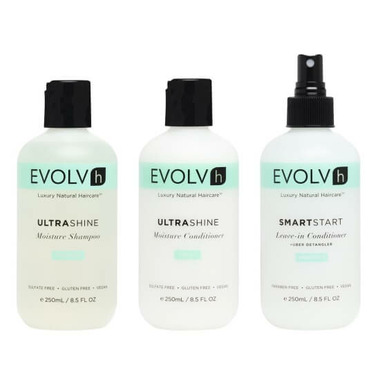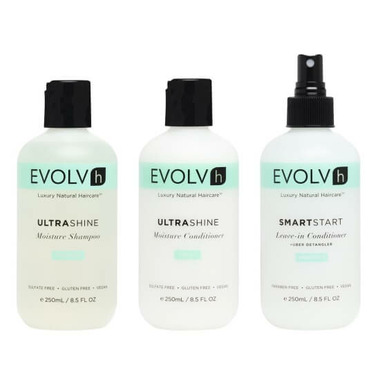 EVOLVh Healthy Hair Trio Box
The Easy 3-Step System for Healthy Hair: Cleanse. Treat. Protect.

ULTRAShine Moisture Shampoo 8.5oz - Sulfate-free, color safe, and great for all hair types, this beloved shampoo balances pH while gently cleansing hair and scalp. Our proprietary blend of nourishing botanicals, antioxidants, plus select amino and fatty acids revitalizes hair from the inside out, resulting in hair with brilliant shine and increased bounce and softness.

ULTRAShine Moisture Conditioner 8.5oz - This coveted vegan formula is for all hair types, straight or curly, fine, coarse, or thick, it detangles , adds shine and strength, reduces frizz, protects against heat breakage, improves manageability, and is especially recommended for color treated hair and for imparting youthful softness while tang pesky greys.

SMARTStart Leave-In Conditioner 8.5oz - This lightweight, water-based formula is the dream leave-in conditioner. It contains raw lecithin which fortifies weak strands, preventing breakage and splitting. SmartStart also softens, detangles, reduces frizz and fly-aways, and protects against damage from heat styling and UV light.

Are you ready for LOVE? Lustrous, revitalized, manageable hair. Optimal performance when all 3 products are used together. Visible results you will see and feel immediately. Earth-friendly, good-for-you ingredients.

Directions:
1) To achieve optimum results, wash hair with UltraShine Moisture shampoo massaging into hair and scalp. Your hair will be infused with shine and strength, with restorative results including increased color retention and added softness and manageability.
2) Step two is to apply UltraShine Moisture Conditioner to hair, focusing on mid-lengths and ends. Rinse with warm water. Hair will feel moisturized with smooth manageable texture.
3) Step three in the regimen is the SmartStart Leave-In Conditioner. This is the step you will not be able to live without. With most municipal water being alkaline, the low pH level in SmartStart will help return your hair cuticle to the closed position assuring smooth hair that will be ready for any type of heat styling or to air dry beautifully. Spritz a generous amount through damp, towel-dried hair. SmartStart provides the ultimate in nourishment, detangling, reduction in frizz and fly-aways, and protection from heat and UV rays.