EVOLVh SmartCurl Hydrating Conditioner
Smooth, Soft, Frizz-Free Curls
59 mL (2 oz)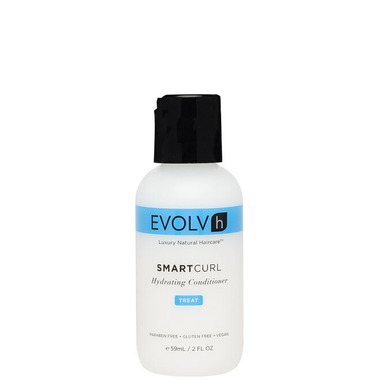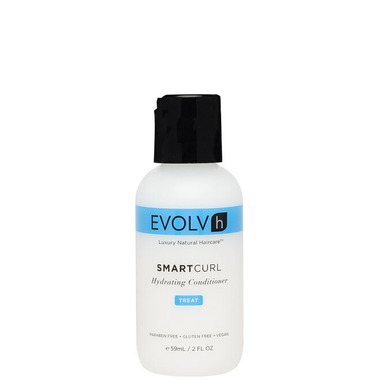 EVOLVh SmartCurl Hydrating Conditioner
Smooth, Soft, Frizz-Free Curls
59 mL (2 oz)
The ultimate hydrating conditioner for all curly hair types, made from the finest natural and organic ingredients for the smoothest hair you will ever experience. An infusion of rich amino and fatty acids with powerful botanicals maximize strength, shine, softness and curl formation resulting in your best curls ever.
Benefits
:
Ultra-hydrating silky rich formula deep conditions hair
Formulated for curly, thick, or coarse hair that needs softness, manageability and definition
Created for dry, over-processed, or frizzy thirsty strands
Restores, repairs and revives, minimized breakage and maximizes growth
Increases color retention
Paraben, silicone, panthenol and Gluten Free
Vegan
Never tested on animals
Made in the USA
Key Ingredients:
PhytoBlend Proprietary Concentrate dramatically restores & revives your curls' texture and appearance.
SmartScent™ - EVOLVh's proprietary clean and sustainable luxurious natural scent
Kiwi Seed Extract accelerates the absorption of essential nutrients for maximum hydration and softness
Castor Oil is the curly hair miracle for shine and smoothness, scalp & hair health
Sunflower Oil moisturizes hair and scalp, promotes hair growth and provides UV protection.
To use:
After shampooing with SmartCurl Hydrating Wash, apply conditioner to hair, focusing on mid-lengths and ends, then rinse with warm water. For intensive moisturizing, comb hair after applying and leave in for five minutes, then rinse with warm water.
Ingredients
: Water, pHytoBlend (proprietary concentrate blend of 20 herbs in an aqueous base ), Brassicamidopropyl Dimethylamine, Dicapryl Succinate, Brassica Glycerides, Palm Oil, Soya, Safflower Oil, Soy Amino Acids, Vitamin C, Wild Pansy, Sweet Clover, Apricot, Nasturtium, Nectarine, Passion Flower, SmartScent™, Citrus Seed Extract.