EVOLVh SmartVolume Leave-in Conditioner
Heat Protection and Volume
250 mL (8.5 oz)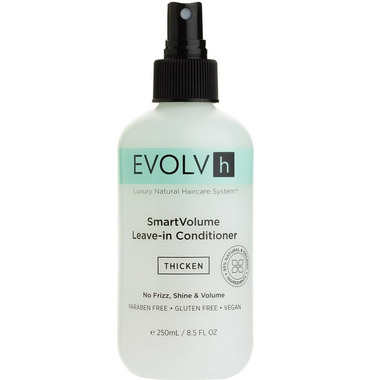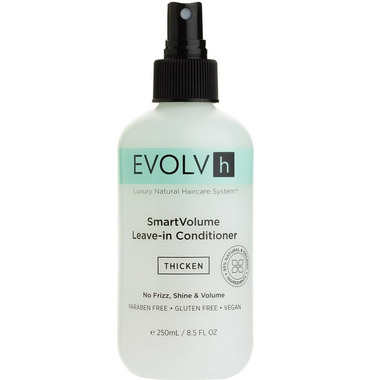 EVOLVh SmartVolume Leave-in Conditioner
Heat Protection and Volume
250 mL (8.5 oz)
The EVOLVh SmartVolume Leave-in Conditioner has a water based formula made with raw lecithen and flax to thicken fortify weak strands and prevent breakace. Rice bran and cumin seed oil guard against heat and UV damage while bergamont fruit oil softens, detangles and prevents flyaways.
Benefits
:
Thickens and adds fullness, without drying hair
Protects against heat and UV damage
100% essential oil signature fragrance
Silicone free, paraben free, gluten free and vegan
EVOLVh products are made using 90% or higher organic content
Never tested on animals
Made in the USA
Key Ingredients:
Rice Bran Extract and Cumin Seed Oil guard against heat damage and provide UV protection.
Bergamot Fruit Oil softens, detangles and adds shine.
Red Raspberry Seed Oil provides exceptional moisturizing and strengthening properties in addition to UV protection.
To use:
After showering, spritz a generous amount evenly through damp, towel-dried hair. Let it sink in for a minute before styling as usual. Bonus: it can also be applied to dry hair to refresh lifeless locks.
Ingredients
: Water, Vegetable Glycerin, Flax, Rice Bran Extract, Black Cumin Seed Oil, Palm Kernel Oil, Lecithin, Pumpkin Seed Oil, Red Raspberry Seed Oil, Red Grape Seed Oil, Cranberry Seed Oil, Citrus Orange Peel Oil, Grapefruit Peel Oil, Lavender Oil, Bergamot Fruit Oil, Patchouli Oil, Cinnamomum Oil, Geranium Flower Oil, Thyme Leaf Oil, Lemongrass Oil, Lemon Peel Oil, Citric Acid, Tocopherol Vitamin E, Grape Seed extract.
Organic, natural, paraben free, silicone free, gluten free, vegan, never tested on animals, made in the USA

tdotmakeupgirl:
a few months ago
Unfortunately, as much as I wanted to love this product, I can't recommend it. I seemed to react badly to it and ended up with very irritated skin on my scalp and ear tips. Perhaps it's the citrus peel oil, followed by any sun exposure? Can't say for sure. Am not actually willing to try it again because I was very uncomfortable for a week after. Hate to throw out such an expensive product, though!
Page
1