EVOLVh Smooth Discovery Kit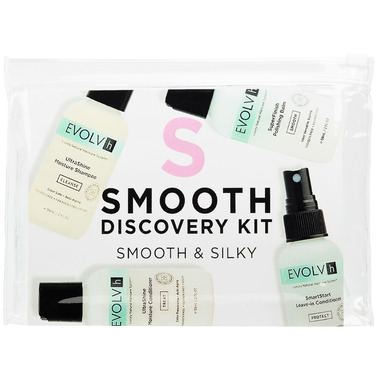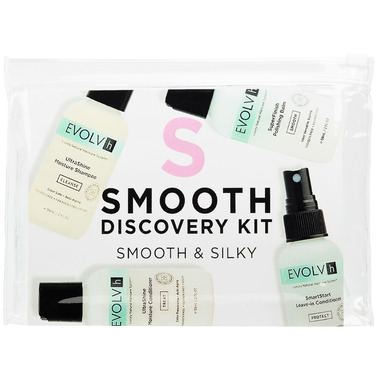 EVOLVh Smooth Discovery Kit
The EVOLVh Smooth Discovery Kit is a complete all-natural system for silky smooth hair. UltraShine Moisture Shampoo and UltraShine Moisture Conditioner moisturize and condition the hair, the perfect foundation for smooth hair. SmartStart Leave-In Conditioner is a game changer for reducing frizz, adding moisture and softness without added weight. Superfinish Polishing Balm delivers brilliant shine and can use on dry hair after blow-drying and/or flat-ironing to smooth and polish for a sleek look.
Silky Smooth Easy in 5 Steps:
1. Cleanse and Treat hair with UltraShine Moisture Shampoo and Conditioner.
2. Towel blot hair and apply SmartStart Leave-in Conditioner, 8-12 pumps root to ends.
3. Apply 1-2 dime size dollops of SuperFinish Polishing Balm, emulsify in hands and rake through hair using fingers, root to ends.
4. Let air dry or blow-dry style using your favorite technique.
5. Apply SuperFinish to dry hair for additional polish and shine. Welcome to smooth and silky shiny hair.
Discovery Kit Includes:
2 oz UltraShine Moisture Shampoo
2 oz UltraShine Moisture Conditioner
2 oz SmartStart Leave-in Conditioner
2 oz SuperFinish Polishing Balm
Reusable Recyclable Zip Pouch + Instruction Card
Organic, natural, paraben free, sulfate free, gluten free, never tested on animals, made in the USA