EVOLVh UltraShine Moisture Conditioner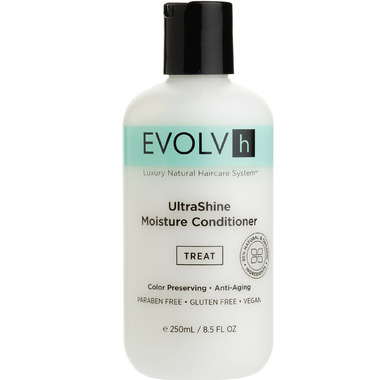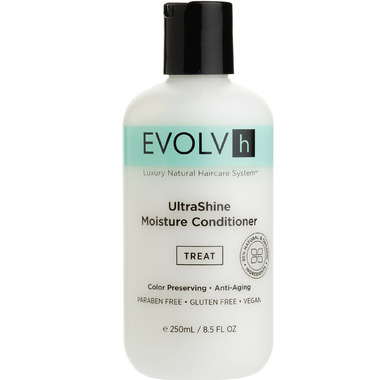 EVOLVh UltraShine Moisture Conditioner
Our vegan and paraben-free formula is versatile enough to tame a spectrum of hair types, from straight to curly, and fine to super thick. It detangles, adds shine, and is also safe for chemically-treated or colored hair. Active ingredients include wild pansy, sweet clover, and apricot extracts - all of which contain our proprietary phyto-blend of nourishing antioxidants - plus amino and fatty acids which restore hair from the inside out, providing anti-aging benefits.
Benefits
:
EVOLVh's exclusive pHytoBlend infuses nutrients for shine and strength
Repairs, restores and prevents breakage and split-ends
Increases color retention
Moisturizes dry, over-processed or frizzy hair
Volumizes fine hair
Softens and adds manageablity to curly, thick or coarse hair
100% essential oil signature fragrance
Silicone free, paraben free, gluten free and vegan
Never tested on animals
EVOLVh products are made using 90% or higher organic content
Made in the USA
Key Ingredients:
Safflower Oil guards against heat damage and provides UV protection.
Amino Acids rebuild, strengthen, and boost elasticity
Sunflower Oil moisturizes hair and scalp, promotes hair growth and provides UV protection.
To use:
After shampooing with UltraShine Moisture Shampoo, apply conditioner to hair, focusing on mid-lengths and ends, then rinse with warm water. For intensive moisturizing, comb hair after applying and leave in for five minutes, then rinse with warm water.
Ingredients
: Water, pHytoBlend (proprietary concentrate blend of 20 herbs in an aqueous base) stearylkonium chloride, glyceryl monostearate, palm oil, mango, lecithin, sunflower oil, soya, safflower oil, soy amino acids, vitamin C, wild pansy, sweet clover, apricot, nasturtium, nectarine, passion flower, citrus seed extract.
Organic, natural, color safe, silicone free, paraben free, gluten free, vegan, never tested on animals, made in the USA