Farmhouse Culture Zesty Garden Vegetable Kraut Krisps
Sauerkraut Chips with Probiotics
142g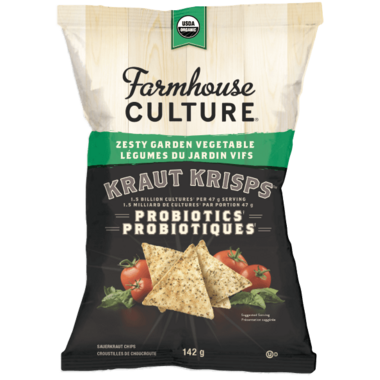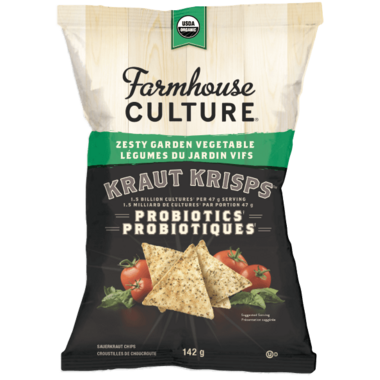 Farmhouse Culture Zesty Garden Vegetable Kraut Krisps
Sauerkraut Chips with Probiotics
142g
Sauerkraut Chips with Probiotics


The flavours of your backyard harvest can finally extend past summer with these Zesty Garden Veggie Kraut Krisps that blend wonderfully sweet tomato with the fresh tastes of onion, garlic, basil, and bell peppers. One bite and you'll think you've been whisked away to enjoy a stunning sunset from your back porch.
Provides 1.5 billion Bacillus coagulans (GBI-30 6086) per 47g serving!
Ingredients:
Organic sauerkraut (green cabbage, water and sea salt), corn flour, vegetable oil, brown rice flour, sea salt, tomato, basil, onion, red bell pepper, garlic, organic inulin.