Flora Flor Essence 7 Day Cleanse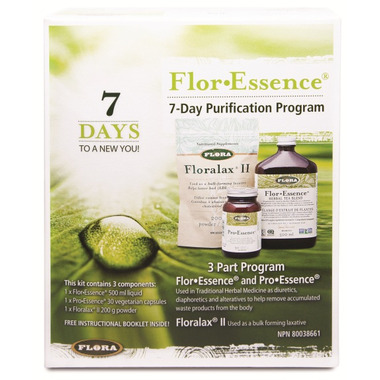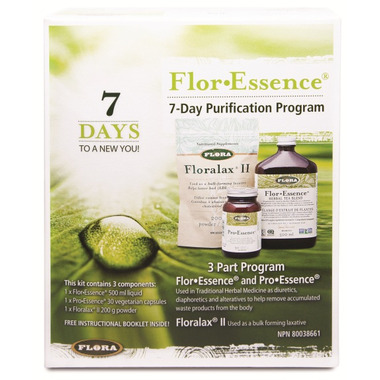 Flora Flor Essence 7 Day Cleanse
The Flor•Essence® 7-Day Purification Program provides you with the means to accelerate your body's natural cleansing process.* This easy-to-use program features Flor•Essence® Herbal Tea Blend with Pro•Essence® urinary tract formula and FloraLax™, a bulk-forming laxative that puts all-important fiber to work in your digestive system.
This kit contains 3 components:
1 x Flor•Essence® 17 oz liquid
1 x Pro•Essence® 30 Vegetarian Capsules
1 x FloraLax™ 4.2 oz powder
ASSISTS WITH:
Whole-body detoxification
Digestion and Elimination
Immune function
Supporting a brighter complexion
Promoting greater energy
Encouraging deeper sleep
Helping to improve digestion & elimination
Flor•Essence®
Each tablespoon (15 ml) contains:
MEDICINAL INGREDIENTS:
A decoction prepared from (dried plant equivalent):
Burdock root* (Arctium lappa) (1:88) 171 mg
Sheep sorrel aerial parts* (Rumex acetosella) (1:174) 86 mg
Slippery elm bark (Ulmus rubra) (1:714) 21 mg
Blessed thistle aerial parts* (Cnicus benedictus) (1:1875) 8 mg
Watercress aerial parts (Nasturtium officinale) (1:1875) 8 mg
Red clover flower-heads* (Trifolium pratense)(1:1875) 8 mg
Rhubarb root* (Rheum palmatum) (1:3000) 5 mg
NON-MEDICINAL INGREDIENTS: Filtered water, citric acid and kelp*
*Organic.
Pro•Essence®
Each vegetarian capsule contains:
MEDICINAL INGREDIENTS:
Prickly ash bark (Zanthoxylum americanum) 140 mg
Juniper berry (Juniperus communis) 70 mg
Burdock root (Arctium lappa) 70 mg
Slippery elm inner bark (Ulmus rubra) 35 mg
Uva ursi leaf (Arctostaphylos uva-ursi) 9 mg
NON-MEDICINAL INGREDIENTS: Hypromellose
Floralax® II
Each tablespoon (5 g) contains:
MEDICINAL INGREDIENTS:
Organic defatted flaxseed (Linum usitatissimum) 2.5 g
Organic psyllium husks (Plantago ovata) 2.3 g
Organic oat bran (Avena sativa) 0.2 g
For occasional use only. Consult a health care practitioner for use beyond one week.

Vegetarian, Vegan, Gluten Free, Yeast Free, Dairy Free