Genuine Health Fermented Vegan Proteins+ Natural Chocolate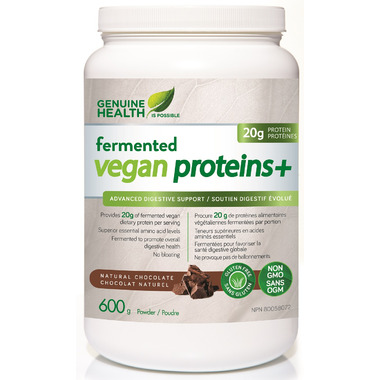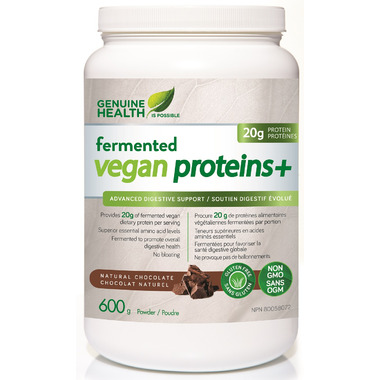 Genuine Health Fermented Vegan Proteins+ Natural Chocolate
Genuine Health Fermented Vegan Proteins+ offers a quality vegan protein powder that harnesses the power of fermented foods! With advanced digestive support, Genuine Health Fermented Vegan Proteins+ are high in protein with 20 g of fermented dietary protein per serving.
Why Fermented Protein?
Promotes overall digestive health and thereby healthy gut bacteria
Primes the gut for the absorption of other health promoting ingredients
Unlocks vitamins, minerals, amino acids and carbohydrates for optimal absorption by the body
Removes anti-nutrients and harmful bacteria found in many foods
Supports the immune system
Fermented Protein Blend, Unique to Genuine Health!
Only Genuine Health's fermented vegan proteins+ contains a custom formulated blend of carefully selected high quality vegan ingredients that are all exceptionally high in protein content and together provide a unique and synergistic source of high quality fermented protein
These unique vegan ingredients are artisanally fermented in small batches using non-dairy probiotics by professional microbiologists who monitor and control the entire process to ensure pristine quality and the perfect level of fermentation for optimal health benefits
Finished product is packed full of nutritional value, predigested and ready for your body to use. In no other product can this custom blend be found!
Key Benefits:

No bloating!
Strengthens gut & digestive health
Maximizes protein & nutrient absorption
Provides immune system support
All-natural and non-allergenic with no artificial colours, flavours, sweeteners or preservatives
Made with non-GMO ingredients, and tested for purity and potency to guarantee effectiveness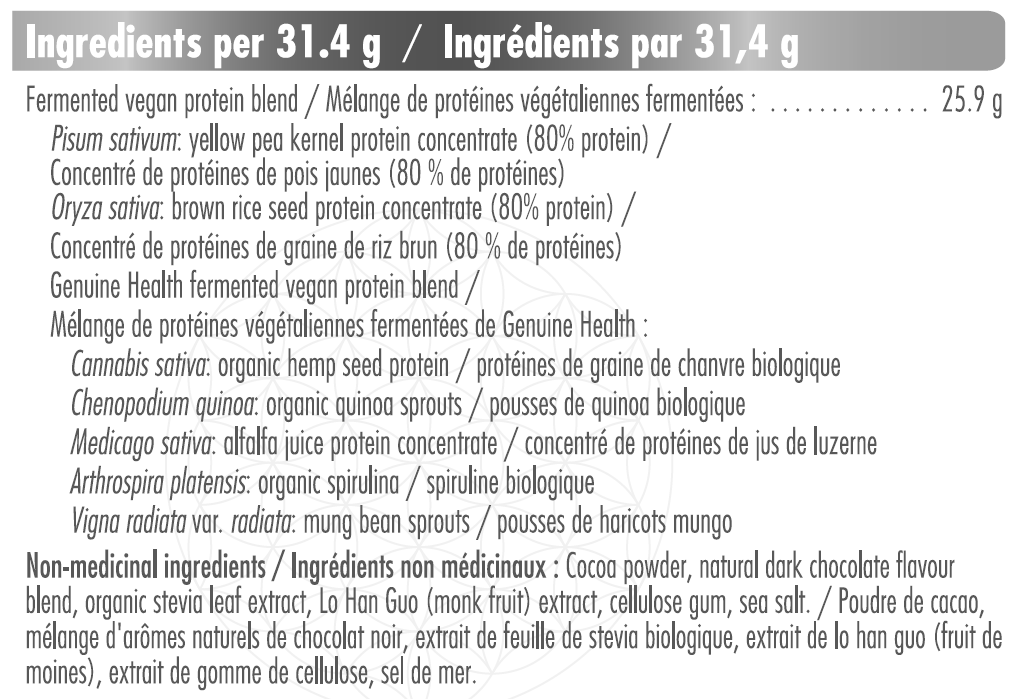 Gluten-Free, Non-GMO, Soy Free, Vegan






Niseema:
a few months ago
I have tried so many different kinds of vegan shakes and this one is by far the best! The flavour and consistency is awesome, like drinking a milkshake. I always add a banana to give it a bit more staying power. I always feel great when I drink these, which I do most mornings now.
1