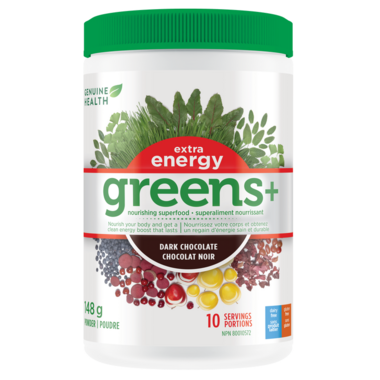 Description
Greens+ Extra Energy has been created to provide you with a clean, natural and steady boost of energy sourced from a synergistic blend of 11 energy-enhancing superfoods, including Japanese green tea extract and organic alfalfa leaf extract. Every scoop contains 40% more essential phytonutrients than leading competitors, in 1 convenient and delicious daily serving, with powerful vitamins, minerals, antioxidants and amino acids for energy, stamina and peak athletic performance, without a crash later.
Mix 1 scoop (13.3 g) in 1 cups (375 ml) of pure water. Shake well. If you are a new user of greens+, begin with 1/3 of a scoop daily and gradually increase to a full scoop daily over a 3 week period. Take with food. Consult a health care practitioner for use beyond 3 months.
10 Servings

Highlights

Features
Increases energy
Antioxidant support
Easy to mix
Great tasting
Try instead of coffee or energy drinks
Amazing pre-workout!
Ingredients
LECITHIN, SPIRULINA CELLS, APPLE FRUIT, ORGANIC BARLEY GRASS, ORGANIC ALFALFA GRASS, ORGANIC WHEAT GRASS, CHLORELLA, ORGANIC SOY SPROUTS, ORGANIC WHOLE BROWN RICE KERNAL, ROYAL JELLY, BEE POLLEN, LICORICE ROOT EXTRACT, ACEROLA BERRY JUICE, FOS, LACTOBACILLUS HELVETICUS, LACTOBACILLUS RHAMNOSUS, LACTOBACILLUS CASEI, LACTOBACILLUS PLANTARUM, LACTOBACILLUS SALIVARIUS, BIFIDOBACTERIUM LONGUM, BIFIDOBACTERIUM BIFIDUM, BIFIDOBACTERIUM BREVE, SIBERIAN GINSING ROOT EXTRACT, MILK THISTLE SEED EXTRACT, ORGANIC RED BEET ROOT, ATLANTIC DULSE SEAWEED, GINKGO BILOBA L. LEAF EXTRACT, JAPANESE GREEN TEA LEAF EXTRACT, EUROPEAN BILBERRY EXTRACT, GRAPE EXTRACT, L-TAURINE, KOLA NUT SEED EXTRACT, VITAMIN C, GOTU KOLA HERB, L-TYROSENE, GLYCINE, RHODIOLA ROSEA ROOT EXTRACT, SUMA ROOT POWDER, ASTRAGALUS MEMRANACEUS ROOT POWDER, VITAMIN B6, CHROMIUM, STEVIA, NATURAL FLAVORS, COCOA POWDER, GUM BLEND (ACACIA, GUAR AND XANTHAN), ASCORBIC ACID.
Shipping & Returns