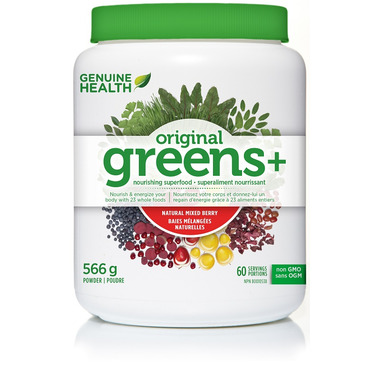 Natural Mixed Berry
566 g
---
Description
Boost your nutritional intake, energy and vitality with Canada's first and only research-proven superfood formula! Just one serving daily provides a synergistic blend of over 23 plant-based essential nutrients. Highly alkaline-forming and rich in antioxidants, greens+ nourishes and protects your body, increases energy, promotes healthier bones – and so much more.
Benefits:
Superfoods
Performance
Cardiovascular Health
Mood & Cognitive Function
Digestive Health
Energy & Vitality
pH Acid/Alkaline
Recommended Dosage:
To increase your energy and well-being, mix 3 teaspoons (8.5g) in 1 cup (250mL) of pure water or juice. Shake well. If you are a new user of greens+, begin with 1 teaspoon daily and gradually increase to 3 teaspoons daily over a 3 week period. Do not take on an empty stomach. Consult a health care practitioner for use beyond 3 months.
Caution:
Not be taken by children, during pregnancy, while breastfeeding, by those on medication or with chronic health problems unless under the recommendation of a health care practitioner. Consult a health care practitioner prior to use if you have nausea, fever, vomiting, bloody diarrhoea or severe abdominal pain. Do not use if you have gastrointestinal blockage or immune-comprimised condition (e.g. AIDS, lymphoma, patients undergoing long-term coritcosteroid treatment). Discontinue use and consult a health care practitioner if symptoms of digestive upset occur, persist or worsen beyond 3 days. Use with caution if allergic to bee products.
Note:
greens+ contains no egg, artificial colours, flavours or sweeteners. Keep greens+ refrigerated after opening. greens+ is non-irradiated.
Highlights

Shipping & Returns