Globber Primo Light Up 3 Wheel Scooter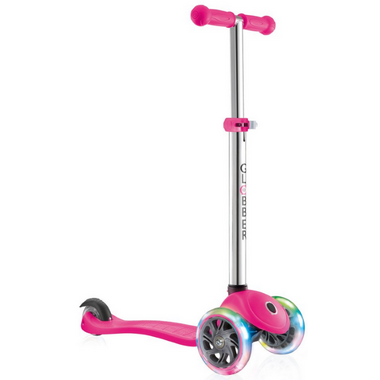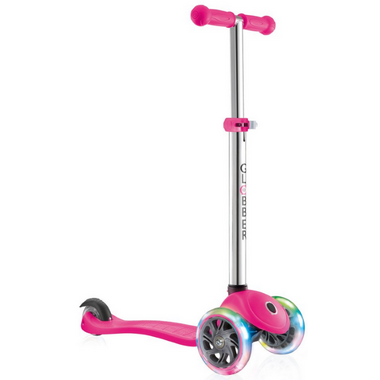 Globber Primo Light Up 3 Wheel Scooter
Intended for children aged 3 years and up, the My Free Up scooter grows as children develop, thanks to its adjustable T-bar. It is ideal for developing balance and making learning easier.
Featuring revolutionary design and functionality, the Globber Primo with lights accompanies children as they have their first gliding experiences. Designed for safe learning, its three wheels, very sturdy foot deck and low footrest and deck guarantee user stability and comfort. Its wheel locking/unlocking system and assisted steering enable children to progressively learn how to turn.
Features:
PATENTED SECURE LOCK BUTTON: keeps the scooter moving in a straight line to help your child learn to balance - it is the easiest way to learn to ride a scooter. Unlock the button and spring-loaded steering mechanism allows your child to lean to steer, and front pivot supports enable smooth turns
ADJUSTABLE HANDLEBARS: that grow with your child. The handlebars adjust from 26.5 to 31 inches from the deck. He or she can hang on tightly to the comfortable dual-injection grips. Recommended for ages 2 – 6 years
STEEL PLATE REINFORCED DECK: for maximum support and stability. A low deck clearance from the ground provides a stable and responsive ride. Maximum weight capacity of 110lbs, which is more than double other leading brands
ROLL ALONG SMOOTHLY: on the high-rebound PU wheels with ABEC-5 bearings. An extra long rear brake covers the entire wheel for more efficient braking
Weight capacity is 50kg (110lbs).