Grainstorm Heritage Baking Organic Ancient Grain Muffin Mix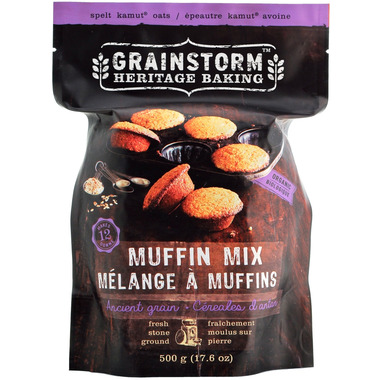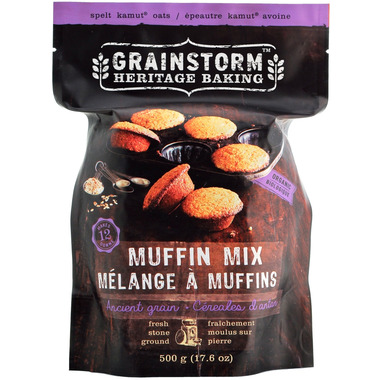 Grainstorm Heritage Baking Organic Ancient Grain Muffin Mix
Bake like it's 1869!
This is Grainstorm's most popular product, a robust blend of organic spelt, kamut and oats, and just enough organic cane sugars for the aromatic flavour of the grains to shine through. The result is delicious and satisfying, dense with nutrients and bursting with complex flavours and textures that satisfy your cravings and nourish your body. Fabulous on its own, or use it as a versatile base for everything from Carrot Cake to Banana Bread to Coffee Cake.
Features:
Makes 12-16 muffins or 2 medium loaves
Made with Canadian grains
Nut/Peanut Free
What's in the bag:
Whole fresh stone ground spelt*, kamut* and oat* kernels, dried cane juices*, non-GMO baking powder, baking soda, sea salt. *Organic
What you add in your kitchen:
eggs, butter, olive oil and plain yogurt. Plus any other fresh ingredients and add-ins.