Green Cricket Hand & Body Lotion Set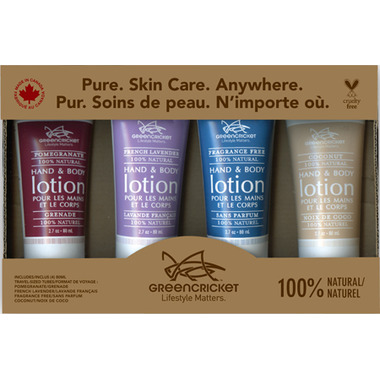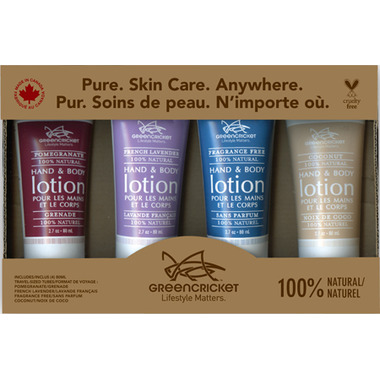 Green Cricket Hand & Body Lotion Set
Enjoy all of Green Cricket's Hand & Body Lotions with this adorable set!
Green Cricket 100% Natural Hand & Body Lotion lets you indulge in long-lasting, rich hydration for hands and body.
Features:
100% Natural
Scented with essential oils

80 mL size is perfect for purse or carry on luggage
Made from plant based ingredients
Contains no artificial fragrances or colours
Contains no SLS, SLES, PEG, or Parabens
Made in Canada
Includes: 4 x 80 mL in Fragrance Free, Pomegranate, Lavender & Coconut








Alison:
about a year ago
The BEST hand creams ever! Getting this set is great, I love the unscented one, but the other 3 scents are so subtle and refreshing. The formula absorbs very quickly and immediately improves the look of skin. Great for my eczema. I am going to buy the 500ml version of the hand and body lotion. I'm also looking at trying more of their products, like the face sunscreen and shampoo.
Page
1