Hape Toys Checkout Register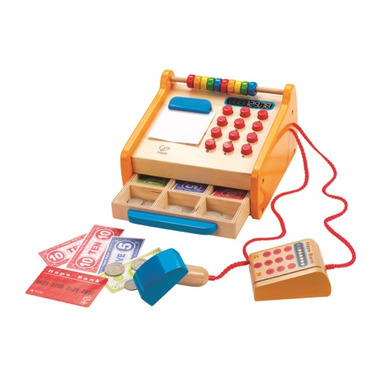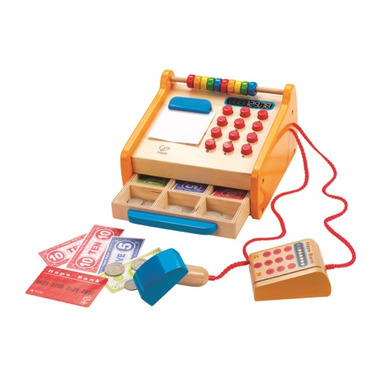 Hape Toys Checkout Register
Cash or credit? This sturdy register lets you scan a card or pay with money. Play value: priceless.
Suitable for ages 3 years old and up.
Features:
Wood, Water based paint
Imagination & Creativity: Encourages imitative and imaginary play; promotes fantasy story telling, role playing, and creativity
Social Skills: The basics of communication, cooperation, and collaboration; encourages trust, friendship, and language development
Problem Solving: Introduces logic, matching, spatial relationships, critical thinking, and an understanding of cause and effect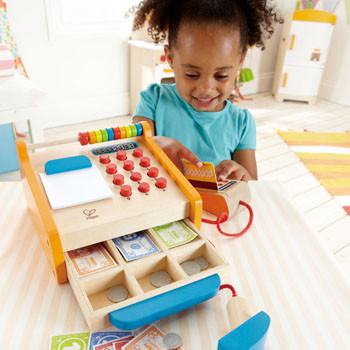 Mary:
more than a year ago
Kids love it! The only problem is the paper money keeps slipping behind the tray and there is no way to remove tray without unscrewing. Tipping upsidedown and wiggling usually aids in removal. Nice to have a non battery powered item. Encourages early writting skills as the children can hand write a receipt - no pencil provided.
Mary:
more than a year ago
I purchased this product for my three year old grandson. My daughter prefers that he play with natural products and nothing with batteries, buzzers or bells and whistles, so this was perfect. It allows him to use his imagination in play, yet it has scanners, a place to slide a debit card and pretend money, much like he'd see at any store. Great little toy for life lessons and interacting with others.
Page
1