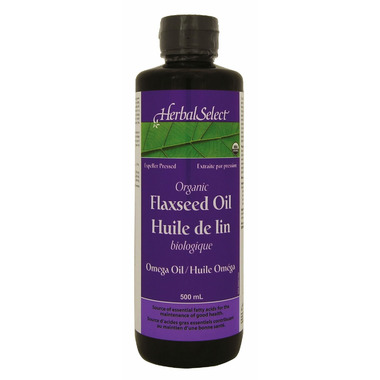 Description
Herbal Select Flax Oil Liquid starts with organically-grown seed from the Canadian prairies. Cold-pressed and processed to ensure purity, potency and safety, flax oil contains the most Alpha Linolenic Acid (ALA) of any seed oil. Flax (Linum usitatissimum) contributes to healthy skin, reduced cholesterol, as well as brain and eye health. Flax oil has also shown results in the treatment of psoriasis, eczema, high blood pressure, angina, stroke, coronary heart disease, multiple sclerosis and immune system function.
Herbal Select uses an exclusive process which reduces exposure to light, heat, and air during manufacturing. The oil is bottled to maintain its light taste and maximum freshness. This special container prevents free radical formation due to light. Herbal Select's unique, natural anti-oxidant system allows for room temperature storage of unopened bottles.
Directions:
Take 1 – 3 tablespoons (14 to 42 grams) daily in salad dressings, dips, spreads, sauces, blender creations or as a condiment over pasta/rice. Refrigerate after opening.
Ingredients:
1000 mg of 100% pure cold-pressed organic flax seed oil. Certified organic by the Organic Crop Improvement Association.
Fatty Acid Profile:
Omega-3 fatty acids (6985 mg)
Alpha Linolenic Acid (ALA)................6985 mg
Omega-6 fatty acids (1722 mg)
Linoleic Acid (LA)........................1722 mg
Omega-9 fatty acids (1764 mg)
Oleic Acid (OA)...........................1764 mg
Highlights

Shipping & Returns