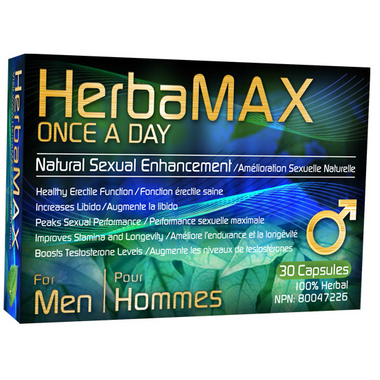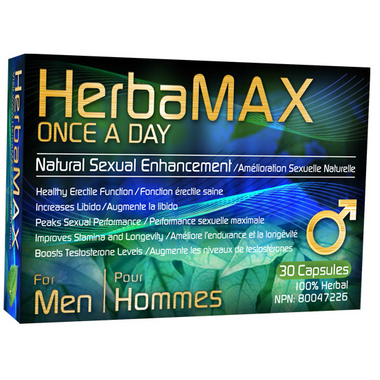 - We're sorry, this product is no longer available!
- Shop for other products in: For Him

HerbaMAX Once a Day are male sexual enhancement pills that can be taken consistently over time to increase blood flow, balance sex hormones, alleviate anxiety and dramatically increase confidence.
Ingredients
Tribulus Terrestris – (Gokshura) 10: 1 Extract -150 mg- EQT 1500mg
used for male sexual problems, including erectile dysfunction (ED), involuntary release of semen without orgasm (spermatorrhea), and to increase sexual desire; for heart and circulatory system problems, including chest pain, high blood pressure, chronic fatigue, enhancing performance, and a sexual mood enhancer.
Maca – (Lepidium meyenii) 20:1 Extract – 75 mg – EQT 1500mg
is used for male sexual problems including erectile dysfunction, to assist combat impotence in males (which is the inability to realize an erection long sufficient to have satisfactory intercourse, to reach a climax, or both); to enhance a person's stamina, or lasting power; to enhance his total energy; to improve fertility (increase the volume of semen and sperm count) within the test subjects; and to balance such male sex hormones as testosterone and progesterone.
Panax Ginseng 4:1 Extract – 100 mg – EQT 400mg
can reduce the symptoms of erectile dysfunction, or male impotence. Men taking Panax ginseng may have firmer, longer-lasting erections that are easier to attain; have higher sperm counts and increased sperm motility; and a combination of herbs including Panax ginseng may help to treat premature ejaculation.
Horny Goat Weed – (Epimedium Grandiflorum) 20:1 Extract – 50 mg – EQT 1000mg
used for sexual performance problems including erectile dysfunction (ED) and involuntary ejaculation. It is also used to arouse sexual desire. Horny goat weed contains chemicals which might help increase blood flow and improve sexual function. Horny Goat Weed also contains Phytoestrogens, chemicals that act somewhat like the female hormone estrogen helping to balance hormones. One of the flavonoids, Icariin, is believed to play a role in the sex-boosting effects of the plant, which is used to restore sexual fire, boost erectile function, allay fatigue, and alleviate menopausal discomfort.
Goji – (Lycium Barbarum) 60mg
Increase testosterone levels, improve overall stamina, mood and wellbeing and have been known to boost sexual activity, libido, and performance.
the best known as a spice, but extract from the bark of cinnamon tree has been used traditionally as medicine throughout the world. It increases heat in the body by warming the blood and speeding the other herbs to their body destinations. This makes the other herbs work faster in enhancing sexual desire.