Herbatint M Mahogany Natural Herb Based Hair Colour
Permanent / 4M Mahogany Chestnut Colour
150 mL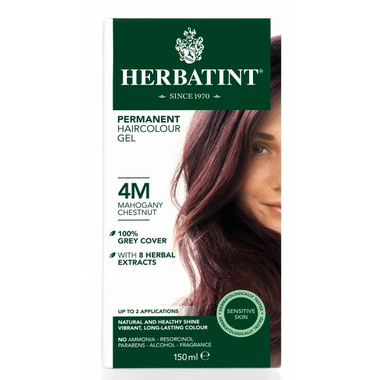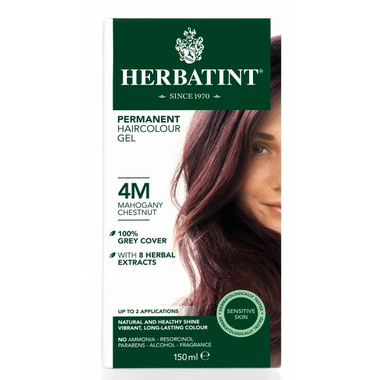 Herbatint M Mahogany Natural Herb Based Hair Colour
Permanent / 4M Mahogany Chestnut Colour
150 mL
Herbatint "M" Mahogany Natural Herb Based Hair Colour is the most natural permanent hair colouring gel.
Features:
Permanently colours hair without damage.
Herbatint has a natural translucent property to enhance hair with a light-reflecting, healthy shine; so it doesn't create the 'block colour' look often associated with chemical dyes.
Permanent herbal haircolour gel without ammonia, without paraben.
Ingredients: Laureth-4, Propylene glycol, Aqua (Water), PEG-2 oleamine, Ethanolamine, Oleic acid, p-Phenylenediamine, Aloe barbadensis (Aloe vera)leaf extract, Hamamelis virginiana (Witch hazel)leaf extract, Betula alba (birch)leaf extract, Echinacea angustifolia (Echinacea)root extract, Juglans regia (Walnut)shell extract, Rheum palmatum(Rhubarb)root extract, Cinchona calisaya (Cinchona)bark extract, PEG-75 meadowfoam oil, Limnanthes alba (Meadowfoam)seed oil, 2-Amino-3-hydroxypyridine, p-Aminophenol, m-Aminophenol, Tetrasodium EDTA, 4-Chlororesorcinol, Cetrimonium chloride, Simethicone,Sodium metabisulfite, Glycerin.

Hayley:
about a year ago
I switched from using drugstore brand permanent box dye to Herbatint a few years back. I'm sad I didn't make the switch earlier. The quality of coverage is the same and you don't have to deal with the harsh smell of regular box dye.
You blend the colour and developer together yourself so you only need to mix up as much as you need each time. This has saved me a ton of money over time as I could get 2-3 colouring sessions out of each box, especially when I'm only colouring in my roots. Despite being young, I have A LOT of grey hair and this is has covered my grey quite well.
The colour itself is a pretty dark auburn when applied over brown hair.
Page
1