Herbivore Botanicals Blue Clay Dry Mask
Detoxifying Treatment Mask
60 g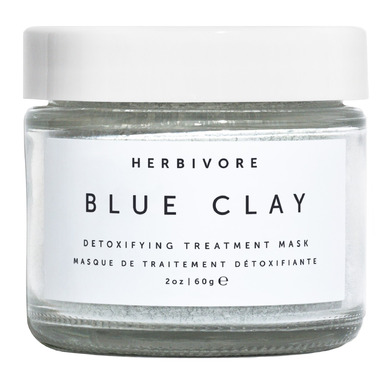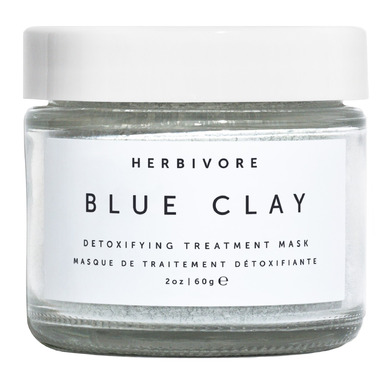 Herbivore Botanicals Blue Clay Dry Mask
Detoxifying Treatment Mask
60 g
Herbivore Botanicals Blue Clay Dry Mask is formulated to reduce existing blemishes while deeply detoxifying the skin. It is best to follow with a moisturizer. For oily skin types we suggest following a blue clay treatment with our Lapis Facial Oil.
Features:
Cambrian Blue Clay - Found in Siberian lakes and known for its clarifying and skin balancing properties. This clay penetrates deeply into your pores to draw out impurities while also helping your skin to maintain moisture. It also helps to reduce redness and puffiness on the surface of skin.
Rose Geranium Essential Oil - A natural anti-inflammatory, beneficial in balancing oily skin types.
Directions:
Mix 1/2–1 tbsp. with a few drops of water until a nice paste is formed. Apply to either entire face or specifically to blemishes and broken-out areas. Let dry and wash off. Please test this product on a small area before full application. If you have irritation, please discontinue using the mask.
Ingredients:
Cambrian Blue Clay, White Kaolin Clay, Pelargonium roseum asperum (Rose Geranium) Essential Oil



Victoria:
a couple of weeks ago
I love this mask! It reminds me of a more natural version of the glamglow mask. It gets the junk out of your skin but isn't too harsh. You can use it as a full mask or a spot treatment. There's a ton of product and since you mix it with water you don't need to really worry about it drying out. My skin is very soft after using as well!
Danielle:
about a year ago
This stuff smells really good, there is so much in the container I think it is going to last forever. I used this as an all over face mask and it felt really good, but I think it works best on my sensitive skin as just a spot treatment, really helps heal spots, and I like it on my nose to clear sebaceous filaments and blackheads. Has a really nice exfoliating feeling and my skin feels very soft after. If I ever run out I will buy more. I use almost all my skin care from this brand and my skin has never been better. Less oily and for the first time in my life I have clear skin. This product has definitely helped with that.
Page
1